For Glamour, by Erin Reimel.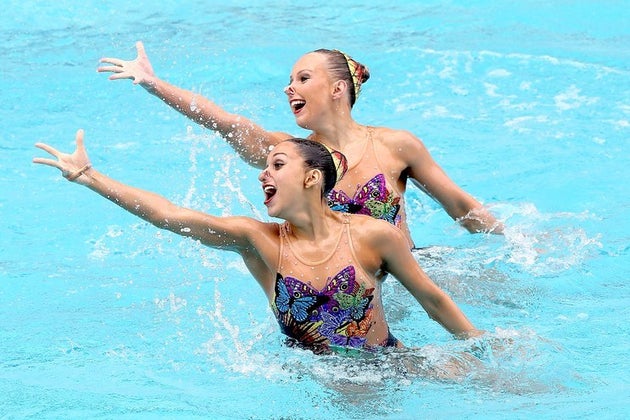 The
Olympic
sport of synchronized swimming requires a lot of pure athleticism, and its emphasis on agility and grace in turn involves some special beauty considerations. Hair needs to stay out of the way during the routines, and makeup —
which is a thing with the sport
— presents its own special challenge (namely being super waterproof). So it's not a huge surprise that the beauty secrets of
Team USA
synchronized swimming pair Anita Alvarez, 19, and Mariya Koroleva, 26, are some of the most creative we've heard.
First, the hair. And no, it's not super-strength hairspray that keeps their strands pulled tight during a routine: It's gelatin — specifically Knox gelatin ($2, target.com), which is basically like unflavored Jell-O.
"We mix it with water, and it turns into a gooey mixture," the swimmers told Vogue. "You comb or brush that into your hair, put it up in a bun, and put a headpiece over that, so when it dries, it gets really hard and your hair doesn't fall out when you swim."
What's even more surprising is the testing they do to make sure makeup stays on during their routines. "We have a lot of makeup on in the water," Alvarez said. "You're swimming far from the judges and the audience, so you have to put on a lot to help your features show from far away."
The line they've found the most success with? Make Up For Ever products, which are both high quality and waterproof. The brand even has a liquid called Aqua Seal ($21, makeupforever.com) that makes powder products waterproof just by mixing them together.
We can definitely dig the gelatin — win that gold medal, ladies! — though we might not be trying it ourselves. For no-smudge lip options that will last through a day by a pool, we love these picks.
One thing that won't wash off? These seriously cool Olympics tattoos athletes got to celebrate their incredible accomplishments.
More from Glamour:
8 Super-Easy Steps for Looking FlawlessFast!
Khloe Kardashian's Style Transformation
Every Celebrity Breakup of 2016 (So Far)
13 Celebrities Who Have Hot Siblings
Keeping Up With the Kylie Jenner Lip Kit
What's That Salad the Kardashians Are Always Eating on Their Show?
Read more: http://www.huffingtonpost.com/entry/youll-never-guess-why-olympic-swimmers-put-gelatin_us_57b21433e4b03d06fe857893?section=&