"Black-ish" star Yara Shahidi isn't one to keep her views on race to herself.
The 16-year-old actress has consistently used her voice to speak out about the issues actors and actresses of color face in the entertainment industry. And, in a recent speech that has been shared recently on social media, she highlighted the limiting lens through which Hollywood tends to view marginalized communities.
While accepting an award for her philanthropy at the Points of Life Conference on Volunteering and Service in June, Shahidi called out Hollywood for only portraying people of color through stereotypical narratives. She said with the lack of positive representation, black and brown kids grow up thinking "they are an anomaly if they succeed and the expectation if they fail."
"How can there be parity or the belief that we are valued similarly if we are still being perceived and perceiving others as a tired stereotype or as one-dimensional?" the teen, who's been acting for more than a decade, asked the audience.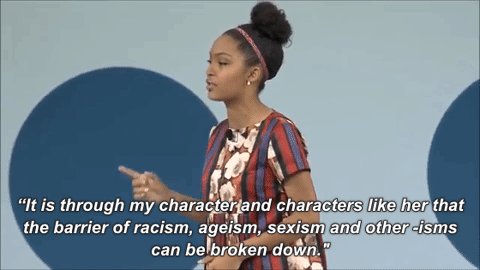 <
div class="content-list-component" text">
In her speech, Shahidi said that she believes one way to reverse Hollywood's one-dimensional perception of certain groups is more intentional programming on TV. The actress said it was her obligation to be a part of a "truer representation of the colorful world that we live in." She praised shows like "Transparent, "Jane the Virgin" and her own show, "black-ish," which was just nominated for its first Emmy, for doing just that.
The character she plays, Zoey, is her form of "activism through art," she said.
"It is through my character and characters like her that the barrier of racism, ageism, sexism and other -isms can be broken down," the actress said.
"Art plus activism in any and all forms is a powerful statement that can spread a message that transcends the barriers and limitations of our different realities to reveal the commonality of our shared human existence," she stated.
You can say that again, Yara!
Watch her full speech above.
H/T Teen Vogue