Simon Burnton: Franois Omam-Biyiks goal and an unheralded team of journeymen defeated Diego Maradonas world champions in Italy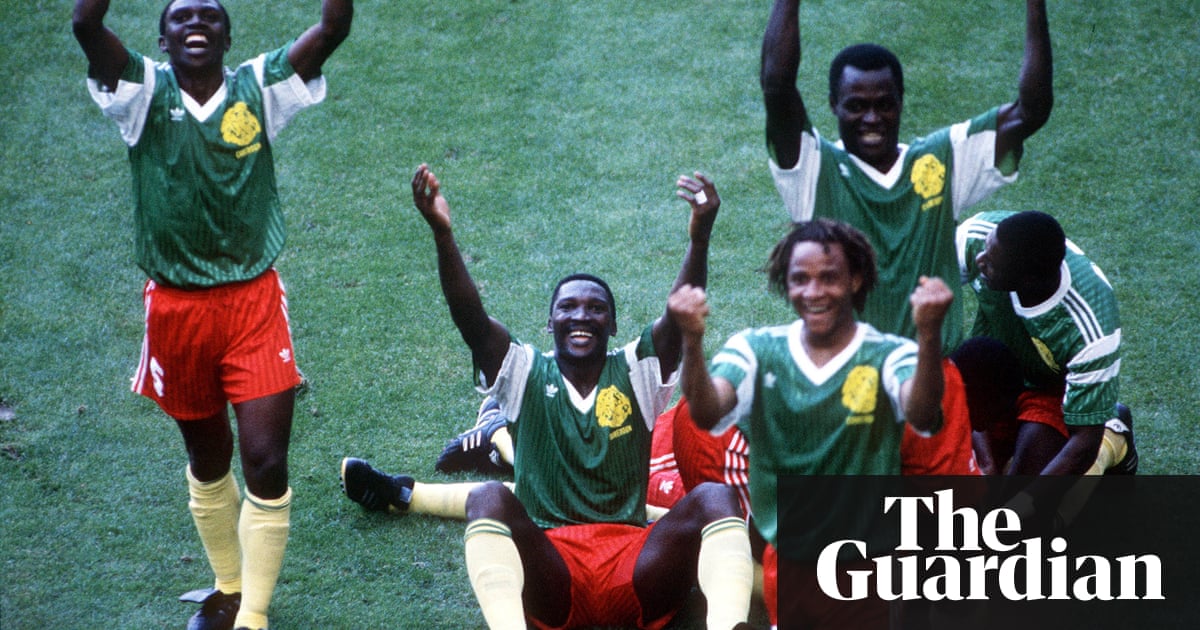 Of the great World Cup upsets the USAs victory over England in 1950, North Koreas over Italy in 1966 and Algerias over West Germany in 1982 probably push it close this one stands alone in myth and memory. It was not a perfect match but it was an irresistible narrative, as the World Cup champions, led by the great Diego Maradona, were vanquished by an unheralded team largely assembled of journeymen players from the French lower divisions though for some of them even that was either an impossible dream or a distant memory.
In the space of 90 minutes African football, once derided for being all about juju magic and Zairian defenders with a limited grasp of free-kick regulations, became credible. The result was celebrated not only in Cameroon, where impromptu street parties erupted across the nation and a reporter from the Telegraph wrote, intriguingly, that a lady in a floral dress and turban did a hand-stand, but across Africa and beyond. When they were finally knocked out a woman in Bangladesh committed suicide, writing that the elimination of Cameroon means the end of my life.
No one thought we could do anything here against Maradona, but we knew what we could do, the goalscorer, Franois Omam-Biyik, said after the game. We hate it when European reporters ask us if we eat monkeys and have a witch doctor. We are real football players and we proved this tonight.
The match is best remembered for the moment, two minutes from the end, when Claudio Caniggia, Argentinas flaxen-haired substitute striker, went on a run down the right. Italia 90 was something of a festival of simulation during which neither Caniggia nor any other Argentinian was to become known for their refusal to go to ground under any kind of challenge, but with his side trailing and time running out he stayed up when an imprecise tackle came flying in, kept going despite a second attempt to bring him down, and was promptly taken out in the most emphatic style by Benjamin Massing, an assault that sent the tacklers right boot, and possibly a few body parts, flying across the pitch, and earned Cameroon their second red card of the day. As Pete Davies put it in his peerless book about the 1990 World Cup, All Played Out, it was a kind of full-pelt, waist-high, horizontal flying bodycheck. The general intention seemed to be not so much to break Caniggias legs, as actually to separate them from the rest of his body.
The opening match set the tone for a tournament that was to feature precisely twice as many red cards as the 1986 World Cup in Mexico, which itself had seen more than any previous finals. Cameroon neutralised Maradona mainly by kicking him, wrote Matthew Engel in The Guardian. He spent much of the game horizontal despite wearing calf pads as well as shin pads. His 10 team-mates seemed too stunned to make any trouble but they were kicked as well, if they got in the way.
Though the first red card, shown to the goalscorers brother Andr Kana-Biyik for a foul on Caniggia, was harsh the French referee, Michel Vautrot, had little choice but to follow Fifas newly handed-down guidelines for ultra-strict arbitration. Brian Glanville, in his Story of the World Cup, insists that a bruising game was made worse by [his] draconian refereeing but in the following days Express, James Lawton proclaimed his victory over a rising tide of wild and often cynical tackling as perhaps the greatest triumph of the night. Sepp Blatter, then Fifas general secretary, boasted before the tournament began that, as a result of their fair play initiative, players will behave in a decorous manner in all phases of the match. The players, it turned out, hadnt really been listening. Im unhappy the referee was forced to intervene as he did, but Im pleased that he did, Blatter said after the match, having criticised the behaviour of players who want to destroy the game of soccer instead of letting creativity and genius flow.
But though a recording of this match will never be of much use to anyone learning the art of clean tackling, there was significantly more to Cameroon than studs and muscle. I dont think they had any intentions of beating us up to win the game, said Maradona. I cannot argue, and I cannot make excuses. If Cameroon won, it was because they were the best side.
This was no fluke, the better team won, wrote David Lacey in The Guardian. They won, moreover, after finishing with nine men on the field Such was their superiority that the Africans still finished looking as if they had more men on the pitch than their hapless opponents.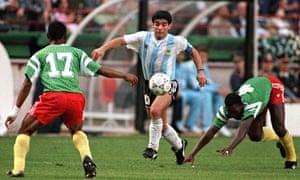 Read more: https://www.theguardian.com/football/blog/2014/feb/12/world-cup-25-stunning-moments-cameroon-argentina