<figure class="media-landscape" has-caption full-width lead">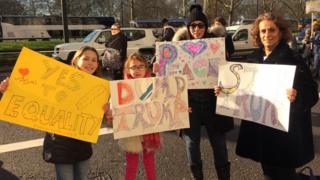 Image caption (l-r) Sophie Pegg, Jasmine Graham, Nancy Pegg, Shamira Graham joined the Women's March in London
"Stand united, we will never be divided," was the message chanted by the crowd as people marched through central London.
Cheers erupted every few minutes as the crowd held up placards to the beat of drum and bass music from a portable sound system.
"Girls just wanna have fundamental rights", "Women won't be trumped" and "Burn bras not bridges" were some of the messages directed at US President Donald Trump from the UK.
Women – and men – of all ages descended on the capital for the Women's March in London on the first full day of his presidency.
There was a united message from the crowd, who came with glitter on their faces and even fancy dress to take part in the two-mile walk.
<
div id="bbccom_mpu_1_2_3″ class="bbccom_slot" mpu-ad" aria-hidden="true">