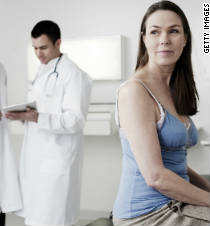 (CNN)Fewer than half of ovarian cancer patients survive more than five years after their diagnosis. But new research indicates that preemptive surgery to remove a woman's ovaries and fallopian tubes might benefit more women than previously thought.
According to a
recent study
by Queen Mary University London scientists, for women age 40 or older with a lifetime risk level of 4% or greater, this operation, in combination with hormone replacement therapy, would provide 43 extra days of life expectancy on average.
<
ul class="cn" cn-list-hierarchical-xs cn–idx-4 cn-zoneadcontainer">
Though so few days may seem a very small gain to most people, "this is an average across the population," explained Dr. Ranjit Manchanda, lead author of the study. "It's pretty high in health statistics." An individual woman might live considerably longer.
Ovarian cancer is the most lethal of reproductive cancers in women. According to Manchanda, 152,000 deaths from ovarian cancer occur each year worldwide. Though it affects women of all ages, ovarian cancer is diagnosed most commonly after menopause. The strongest risk factors are older age and a family history.
Women at highest risk include those with a mother, sister or child affected by the disease and those who carry risk genes, including the BReast CAncer genes 1 and 2 (the BRCA genes). Mutations in the BRCA genes account for
15% of ovarian cancers
overall, according to the National Cancer Institute.
<
div class="zn-body__read-all">
<
div class="el__embedded" el__embedded–standard">