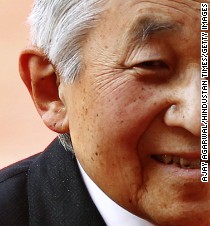 Tokyo (CNN)Japanese Emperor Akihito will take to the country's airwaves Monday to deliver a rare televised speech.
While exact details are being kept under wraps, many expect Akihito, 82, to announce that he can no longer fully perform his duties as emperor.
<
ul class="cn" cn-list-hierarchical-xs cn–idx-4 cn-zoneadcontainer">
The clear implication, which may remain unspoken, is that the emperor desires to step down. The move would mark the first abdication of a Japanese monarch in about 200 years.
Japanese television networks are preparing to air special reports around the speech. Akihito is expected to deliver a pre-recorded video message at 3 p.m. local time (2 a.m. ET) that will undoubtedly be carefully worded, given the sensitivity of the topic.
Abdication impossibility?
While Pope Benedict XVI and other monarchs — including Dutch Queen Beatrix — have abdicated, Japan's postwar constitution does not allow an aging emperor to step down.
The law requires the emperor serve in the position until death. If he becomes incapacitated, his successor can act as regent.
Any change to the Imperial Household Law would require approval by Japan's parliament, which at the moment is focused on controversial revisions to the country's pacifist constitution.
The abdication issue could distract from the constitutional changes being championed by Prime Minister Shinzo Abe's ruling coalition and spur a debate over Japan's succession, including if women should be allowed to ascend to the Chrysanthemum Throne, the world's oldest hereditary monarchy.
Akihito is Japan's 125th emperor and records claim the imperial line has been unbroken for fourteen centuries. Once revered as a living God, the Japanese emperor became a ceremonial figure in Japan's constitutional monarchy after World War Two. Occupying forces seized much of the imperial family's wealth and today parliament controls the household's annual budget and allowances, which total well over $100 million.
The Imperial Household Agency (IHA), which oversees the affairs of the emperor and his family, has declined to comment on Monday's expected address by Akihito.
Succession controversy
The emperor's eldest son, Crown Prince Naruhito, 56, is next in line to the throne and has already taken on some of his father's duties. In May, the IHA announced Akihito and Empress Michiko, 81, would reduce public appearances because of their ages.
In recent years, the emperor has suffered from declining health. Heart surgery and treatment for cancer have taken a toll on his ability to carry out his duties.
The emperor and empress have long maintained a demanding schedule of more than 250 public meetings per year and 75 annual trips within and outside of Japan, the IHA said in May. But more than 100 of those meetings per year will now be canceled or reassigned to the crown prince.
"I've had the occasion to brief the emperor and empress in the past and I was always amazed by the extent of their desire to know everything and to grasp the background of the whom they are going to meet," says former Japanese ambassador Sadaaki Numata.
"It's quite a big burden because both the emperor and empress take their job very seriously and they work very hard at it."
An abdication would be unusual for recent years, but hardly unprecedented in Japanese history. Nearly half of Japan's emperors quit the throne while alive, according to NHK.
Imperial icon
Since the advent of television and radio, only twice has the Emperor of Japan used mass communication to address the nation in times of crisis.
On August 15, 1945, Emperor Hirohito announced by radio that Japan had lost World War Two. More than six decades later, on March 16, 2011, his son and successor Akihito gave a televised message of comfort after the
earthquake, tsunami, and nuclear meltdown in Fukushima
.
Unlike the world's best known monarchy, the British royal family, which seems to constantly be in the news and splashed over social media, Japan's imperial household keeps a relatively low profile by comparison. Aside from answering prepared questions on camera during his annual birthday press conference in December and ahead of state visits, Akihito has few opportunities to speak directly to the public.
The world's only monarch with the title emperor projects a public image that is more grandfather than ruler. He was the first Japanese crown prince to marry a commoner. Like his father, he is passionate about marine biology and is a published fish science researcher.
Akihito made headlines in March of 2011 for the simple act of sitting on the floor with survivors of the Tohoku earthquake and tsunami — something previous emperors would never have done.
"He is the people's emperor and he has done great deal to bring the royal family into the 21st century and make it relevant not only internally but also in terms of promoting far better relations with neighbors," says Jeffrey Kingston, Director of Asia Studies at Temple University.
Kingston says Akihito looked at the legacy of World War Two, which was fought in the name of his father, and made it his mission to atone for the suffering caused by imperial Japan.
"This has raised the dignity of Japan immensely and helped pave the way for Japan's reintegration in the international communityin ways that never would be possible under his father," Kingston says.
Read more: http://www.cnn.com/2016/08/07/asia/japan-emperor-akihito/index.html