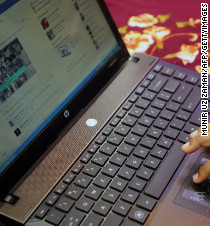 (CNN)This funny Facebook post has been making the rounds:
"Facebook will begin stealing your undies at midnight if you don't copy & paste this message in the next hour," it begins. "This is real. I got the message first hand from Elvis who was having lunch with Bigfoot, while riding the Loch Ness monster.
<
ul class="cn" cn-list-hierarchical-xs cn–idx-4 cn-zoneadcontainer">
"If you don't repost this status, Facebook code has been set up to automatically set your computer on fire & harm an innocent bunny in the forest!" it continues.
"Facebook users will believe anything their friends copy & paste into their status," the post concludes.
Funny — and true.
<
div class="zn-body__read-all">
No, Facebook hasn't changed its privacy settings. No, what you post doesn't belong to Facebook now.
Think about all the things people have believed on social media without proof. Facebook has changed your privacy settings and owns what you've posted! Facebook will charge fees!
<
div class="el__embedded" el__embedded–standard">