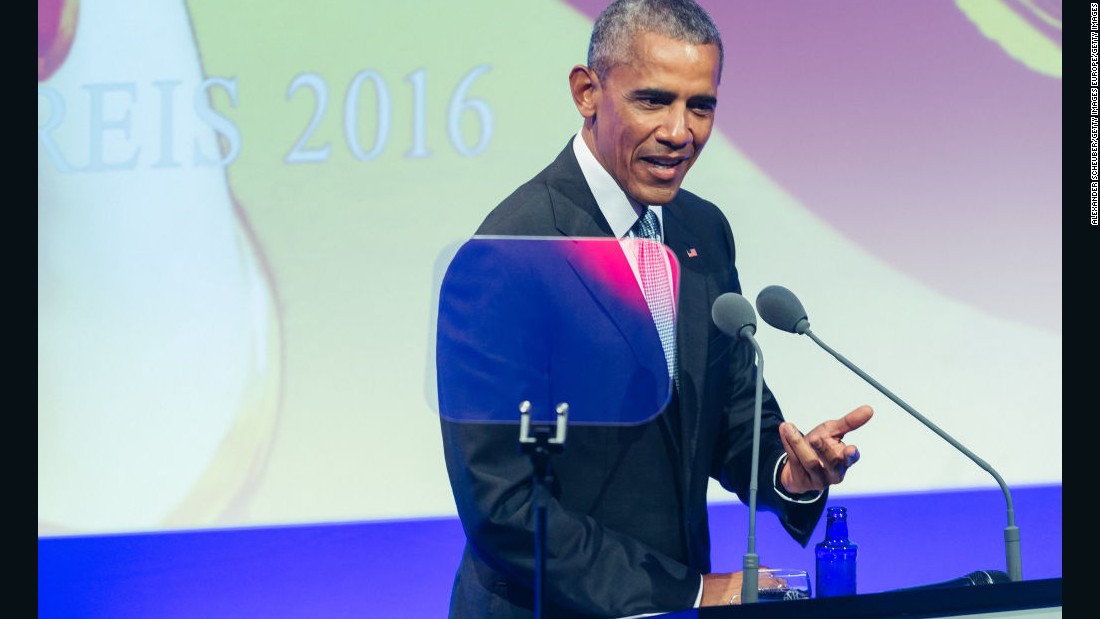 Washington (CNN)There was something familiar about Democratic House candidate Jon Ossoff's concession speech in Atlanta on Tuesday night.
Ossoff told the audience how their community in Georgia had become "the epicenter of politics" and "it had nothing to do with me." His words sounded at times staccato, each one speeding towards the next. He also sounded melodic, his voice reaching a high note at the end of a thought, often mid-sentence, before repeating the melody again.
He sounded like Barack Obama.
<
ul class="cn" cn-list-hierarchical-xs cn–idx-5 cn-zoneadcontainer">
"It almost seemed like he was doing Obama on a Saturday Night Live sketch," said John McWhorter, an associate professor at Columbia University and author of the book "Talking Back, Talking Black." "He sounded like Cory Booker's brother."
"There's a certain Southern aspect to it," he said, inspired by black preachers. "It's how you end each little section."
McWhorter doesn't think Ossoff was "doing it on purpose." "Most speech is subconscious," he said.
Ossoff is 30 years old, a millennial who grew up in Georgia and entered adulthood as Obama took office. That he would adapt the cadence of the most famous Democratic politician of his lifetime seems unsurprising. For a generation of Americans, the Obama cadence is the sound of politics.
But McWhorter said it's more than just Obama. "It's the browning of America."
"There's now a whole generation who've grown up with rap," he said. Indeed, in 2005, the year Ossoff graduated high school, the Billboard Hot 100 No. 1 songs were all rap and R&B hits by artists like Kanye West, 50 Cent, and Mariah Carey, except for Gwen Stefani's "Hollaback Girl," which was itself produced by hip-hop group the Neptunes, and Carrie Underwood's "American Idol" coronation song "Inside Your Heaven," when the show was near its cultural peak.
Black voices can often be heard in commercials, McWhorter said. Although they can sometimes be perceived as "street" or as having bad grammar, he said, "Black voices sell products." "People trust that voice."
"Part of the reason Mitt Romney never sealed the deal was because he sounds too much like the old days," McWhorter said. "He sounded like a Disney announcer," and he couldn't have pulled off "Yes we can" the way Obama did.
Even though Ossoff's speech Tuesday was to concede a loss, he touched on many of the same themes undefeated two-time presidential election champion Obama would about hope and optimism, a "yes we can" speech for a "no we didn't" moment.
"You carried us on your shoulders, and we showed the world in places where no one thought it was possible to fight, we can fight," he told his supporters. Even in defeat, his speech had an Obaman ring to it.
Millennials surpassed baby boomers as the largest living generation in 2015, but they're underrepresented in Congress. Had Ossoff won, he would have been only the six millennial member of the House. As more run for office, however, we could begin to hear echos of Obama more often.
"A new generation of politicians, either Democratic or Republican, might take a cue" from the changes in how we speak, McWhorter said. "I suspect we'll hear more young politicians speak that way."
Read more: http://www.cnn.com/2017/06/21/politics/ossoff-concession-obama-cadence/index.html