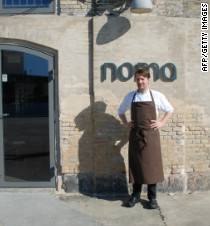 (CNN)When Spanish chef Ferran Adria closed the doors of his world-renowned elBulli restaurant in 2011, it was almost a symbolic changing of the guard.
Few restaurant industry professionals could have predicted a dozen years earlier, however, that a chef of Macedonian-Danish heritage, with a warehouse restaurant in Copenhagen exploring Nordic terroir, would take Adria's place as the world's most influential chef.
Nor that his restaurant would become the most talked-about in the world.
<
ul class="cn" cn-list-hierarchical-xs cn–idx-4 cn-zoneadcontainer">
But Rene Redzepi, 37, is a chef who consistently flouts expectations.
In 2003, when Redzepi, at the age of 25, opened Noma (an abbreviation of the words 'Nordic' and 'mad', which means food in Danish), he'd already spent time in the kitchens of elBulli and The French Laundry, both of which were highly influential at the time.
Redzepi left elBulli with a passion for experimentation and a love of local seasonal ingredients, while at The French Laundry he was instilled with a commitment to working closely with local suppliers by chef Thomas Keller.
What he left behind were the former's playful deconstruction of dishes and the classical fine dining approach of the latter.
The rise of New Nordic Cuisine
Redzepi wanted to create a cuisine that represented the environment he worked and lived in, giving rise to the term "new Nordic cuisine".
Along with celebrity chef, gastronomic entrepreneur and business partner Claus Meyer, he sought to develop a cuisine that reflected the soil, topography and climate — the terroir — of the place in which they lived.
The terroir of his home, however bountiful in the short summer, was barren in the long winter, providing challenges that led Redzepi to forage in fields and the shoreline for ingredients. Though the use of fermentation techniques, he was able to ensure a year-round supply of ingredients.
"There's two ways of foraging," explains Redzepi.
"There's the romantic way, which is 'guys let's go out and be inspired and taste some things and talk about the daily life in the kitchen and so on'."
He says that can be very important if you're in need of some inspiration.
"But most of the times we are out now foraging for work," says Redzepi.
"We go there and it's like harvest time. It isn't as romantic as you think where you are with your little wooden basket, picking things while listening to music and soaking in the sun.
"Sometimes it's rainy, pouring down and you're in your rain suit, mud everywhere and its cold and your fingers are trembling and you have to pick [tiny leaves] and you need a kilo of them."
Meyer and Redzepi initiated a symposium on "new Nordic cuisine" in November 2004 and from this a 10-point New Nordic Cuisine Manifesto was drawn up with an emphasis on seasonality and simplicity.
"Cocktail" – Chilled belle de Boskoop Apples, marinaded in apple vodka and elderflower miso
It didn't stop there.
In 2008 they set up the Nordic Foodlab to study Nordic ingredients and share the results of their findings publicly.
It was around this time that Redzepi felt that the cuisine of Noma had progressed beyond simply making use of local ingredients and recipes that featured foraged and fermented ingredients and vastly contrasting seasons to become a cuisine that now had its own DNA.
Having steadily gained a worldwide reputation among chefs and foodies for forging its own culinary path, Noma climbed to the number 10 spot on the highly regarded San Pellegrino World's 50 Best Restaurants 2008 list.
It was only a couple of years later that Noma took the number one spot — making it harder than ever for visitors to score a table at the 45-seat restaurant.
"My role at Noma has changed over the years — now 12 years in I focus on the creative side," says Redzepi.
"This is the most important side because it's much of the reason people are traveling here — they want to see something they haven't seen before."
Why no third Michelin star?
<
div class="el__embedded" el__embedded–fullwidth">