<figure class="media-landscape" has-caption full-width lead">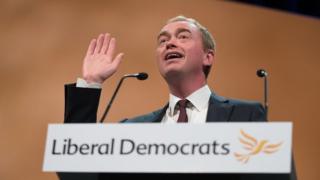 Image copyright Matt Cardy

Image caption Tim Farron: Possibly the most unlikely fan of gangster rappers NWA
Ever wondered how gangster rappers NWA could find a fan in former Lib Dem leader Tim Farron or what JK Rowling thinks of the folk punk band Violent Femmes? Harnessing the modern world of streaming to re-examine the old-fashioned feeling of listening to a new LP for the first time, the RAM Album Club pairs the great and good with the music they missed out on the first time around.
Martin Fitzgerald's club is based on a simple premise: get people to listen three times to an album they had previously overlooked, then ask them to come up with a score out of 10.
"The way of the world these days is you can have that idea, and then in literally an hour you have a website, social media accounts and you're off," he said.
Steering away from the competitive tendencies of know-all musos, like those memorably sent up in Nick Hornby's 1995 novel High Fidelity, Fitzgerald wanted the club to concentrate on getting personal reactions to much-loved LPs.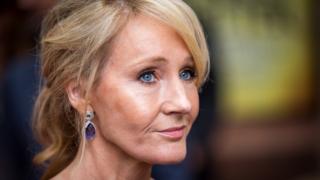 Whether it was arch-conservative commentator Peter Hitchens casting a critical eye over The Kinks, Rebus author Ian Rankin ranking Madonna's debut, comedian Stewart Lee reviewing David Bowie's The Rise and Fall of Ziggy Stardust or actor and comic Chris Addison analysing Marvin Gaye, big names soon queued up to take their place as guests, and brought some of their own fans along for the ride.
In one of the most unusual episodes, Cumbrian MP and self-confessed "complete and utter pop music anorak" Tim Farron listened to NWA's Straight Outta Compton – a slightly edgier group than the Liberal Democrat party he once led in Westminster.
"I think there were some people who thought I was trying to be down with the kids, but I just thought there was a good story behind NWA," said the MP, who is more readily associated with evangelical Christianity than he is for his appreciation of mould-breaking hip hop.
"[Straight Outta Compton] came out while I was going to university, and I was intrigued about why I hadn't listened to it at the time.
"We thought people would think it was funny that a then-party leader was reviewing a frankly quite offensive gangster rap album.
"I was writing about an album that I didn't know about, that other people loved, so I was a bit terrified – writing as an amateur to experts is always terrifying."
<figure class="media-landscape" has-caption full-width">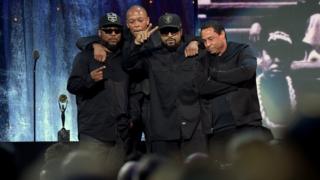 Image copyright Theo Wargo/Getty Images

Image caption NWA were inducted into the Rock & Roll Hall of Fame last year
The idea for the club first came to Fitzgerald when, as a new user of music streaming service Spotify, his friend Ruth, a colleague at a ticket-selling company in Nottingham, suggested an album he'd never heard – Cassadaga by the American indie band Bright Eyes.
Realising they'd hit upon something, they soon cast around for friends and social media followers to join in and RAM (aka Ruth and Martin Album Club) was born.
As the enterprise took off and well-known writers, media personalities and even global superstars like JK Rowling got involved, Fitzgerald's introduction pieces to each review developed into increasingly lengthy "adventure stories", describing their early struggles before the acts being reviewed hit the big time.
Witty and wry, these intros are one of the most compelling elements of the album club.
In one memorable piece, written for TV personality Richard Osman's review of Roxy Music's For Your Pleasure, Fitzgerald takes aim at those critics who derided lead singer Bryan Ferry's work as "a soundtrack to some terrible wine bar that has since closed down".
<figure class="media-landscape" has-caption full-width">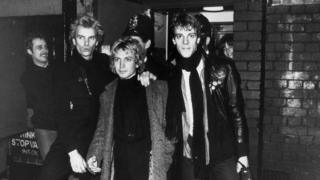 Image copyright Martyn Goddard

Image caption The Police were described as "a Geordie in a jumpsuit, an American who's dad ran the Cold War, and a much older bloke with long fingers" by Martin Fitzgerald in one introduction
Fitzgerald said he was sick of the "socio-political commentaries" evident in much modern music journalism.
"I wanted to write pieces that people would laugh at and find funny," he said.
"I felt I had a lot to say, and people responded to all these bands and the stories of their origins."
---
For Your Pleasure: Guests and their albums
<figure class="media-landscape" no-caption full-width">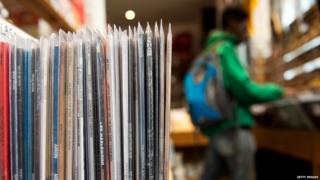 Image copyright Getty Images
David Aaronovitch, journalist and author – Enter the Wu Tang (36 Chambers) by rap group Wu Tang Clan
Jo Caulfield, comedian – Animals by seminal prog rock band Pink Floyd
Bonnie Greer, playwright and activist – Pet Sounds by The Beach Boys
Helen Lewis, technology writer and New Statesman deputy editor – Blackout by Britney Spears
Tom Watson, Labour MP – Slow Train Coming by Bob Dylan
---
One high-profile guest drawn into the club's unique spin on landmark records was Booker-shortlisted author Linda Grant. Having drifted away from the album charts in the late 1970s in favour of classical compositions, she reviewed – and found a place in her heart – for Anglo-Irish hell-raisers The Pogues,
Though the prospect of writing for an audience of music fanatics was daunting, even for an award-winning novelist, she said the club bucked the trend for social media backlashes against perceived slights and encouraged a variety of opinions.
"I was worried people would say I didn't get this or that, that people might have thought that someone who writes literary fiction wouldn't listen to The Pogues, but the responses were really great," she said.
"One of the reasons that it works so well is that people could see Martin is a nice, funny, likeable guy.
"He's not sycophantic, he's very funny, there's never any sneering, and even when people come back with low marks for classic albums, he never tells them they're wrong.
"He let people say what they had to say."
<figure class="media-landscape" has-caption full-width">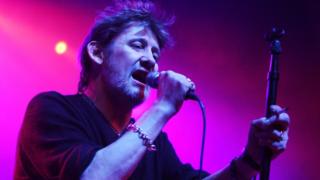 Image copyright Getty Images

Image caption The Pogues and Shane MacGowan found an unlikely fan in novelist Linda Grant
David Quantick, a music journalist and writer for TV comedies such as The Day Today and Brass Eye, reviewed Foxtrot, an early album by prog rock band Genesis.
Despite posting a critical review of the album – something Fitzgerald said often worried guests – he enjoyed the experience of taking part in the club.
"I was interested in the idea of someone writing blind about a record, regardless of who they were or what the record was," Quantick said.
"There's something great about someone being parachuted into to something and having to find their way around it.
"It was hard to find records I didn't know, because I'm a music writer and I'm also someone who's interested in music I don't like – just because it's not my favourite band doesn't mean I don't want to know more about the people who made it or the story behind the band."
<figure class="media-landscape" has-caption full-width">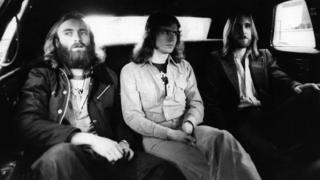 Image copyright Graham Wood

Image caption Genesis may not have been best pleased by David Quantick's views on their album Foxtrot
As the club grew in popularity, Fitzgerald went from idly surfing Spotify in bed to reading a book a week as research for his introductory pieces.
Known as a major music fan to his friends, one even recommended the club to him, unaware he was the founder – there is no image of Fitzgerald on RAM's website as he prefers to keep the focus on the guests and the albums they review.
Eventually the heavy workload, regular turnaround and desire for a rest took its toll, and only one blog for the website has been written in the past year.
<figure class="media-landscape" has-caption full-width">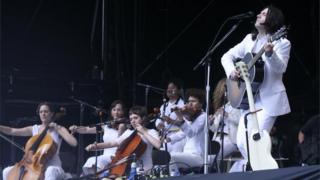 Image caption The idea for the club came after Fitzgerald finally listened to US indie band Bright Eyes
While there might be more "if there are the right guests and if there's an audience", nearly two dozen of the reviews and introductory stories have been released in book form, allowing a blog that was started in Fitzgerald's bedroom reach living rooms across the country.
For the club's founder, there is an unexpectedly simple reason for its success, beyond the fervour of devoted music fans.
"This is actually an idea that came about because of modern technology," said Fitzgerald.
"People often think it's a retro thing to listen to an album, but it wasn't like I had to send albums out or send people to record shops – they could just stream and go."
With a helping hand from modern technology, the club has certainly achieved its primary goal of introducing people to LPs they did not know they loved – with arguably no odder match-up than Straight Outta Compton and Tim Farron.
"It's a shocking album and a great album, and I have listened to it since," he said.
"There's a wonderful thing about music – it's something which people get passionate about."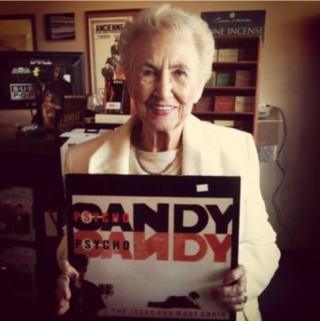 Read more: http://www.bbc.co.uk/news/uk-england-nottinghamshire-41559366