The Long Read: They may have been disproved by science or dismissed as ridiculous, but some foolish beliefs endure. In theory they should wither away but its not that simple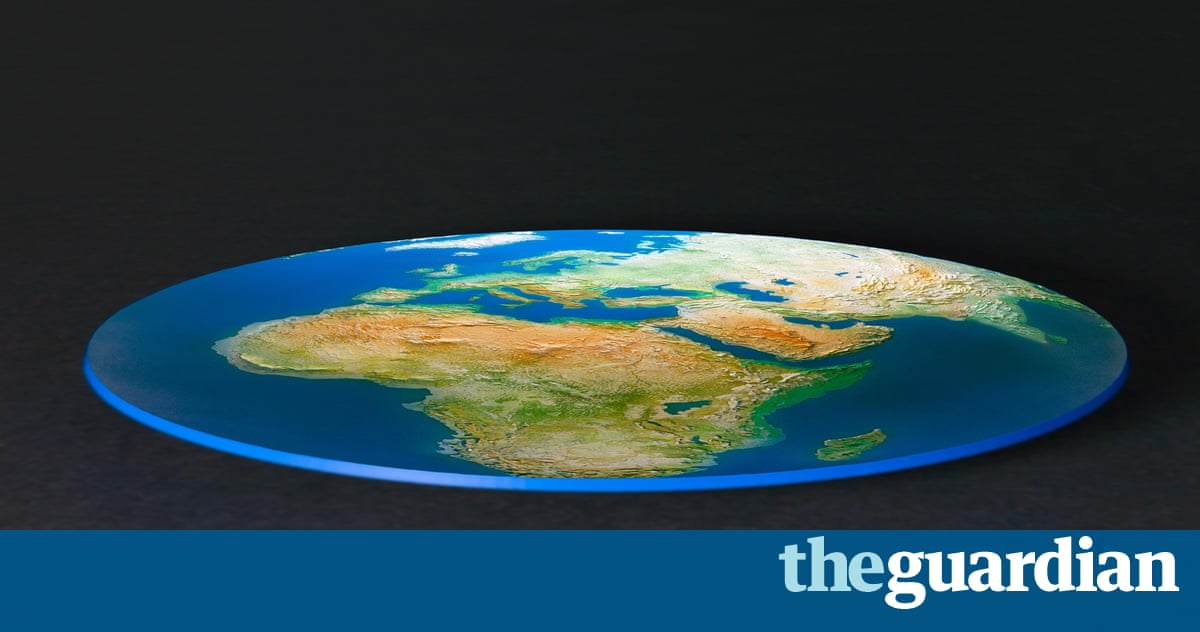 In January 2016, the rapper BoB took to Twitter to tell his fans that the Earth is really flat. A lot of people are turned off by the phrase flat earth, he acknowledged, but theres no way u can see all the evidence and not know grow up. At length the astrophysicist Neil deGrasse Tyson joined in the conversation, offering friendly corrections to BoBs zany proofs of non-globism, and finishing with a sarcastic compliment: Being five centuries regressed in your reasoning doesnt mean we all cant still like your music.
Actually, its a lot more than five centuries regressed. Contrary to what we often hear, people didnt think the Earth was flat right up until Columbus sailed to the Americas. In ancient Greece, the philosophers Pythagoras and Parmenides had already recognised that the Earth was spherical. Aristotle pointed out that you could see some stars in Egypt and Cyprus that were not visible at more northerly latitudes, and also that the Earth casts a curved shadow on the moon during a lunar eclipse. The Earth, he concluded with impeccable logic, must be round.
The flat-Earth view was dismissed as simply ridiculous until very recently, with the resurgence of apparently serious flat-Earthism on the internet. An American named Mark Sargent, formerly a professional videogamer and software consultant, has had millions of views on YouTube for his Flat Earth Clues video series. (You are living inside a giant enclosed system, his website warns.) The Flat Earth Society is alive and well, with a thriving website. What is going on?
Many ideas have been brilliantly upgraded or repurposed for the modern age, and their revival seems newly compelling. Some ideas from the past, on the other hand, are just dead wrong and really should have been left to rot. When they reappear, what is rediscovered is a shambling corpse. These are zombie ideas. You can try to kill them, but they just wont die. And their existence is a big problem for our normal assumptions about how the marketplace of ideas operates.
The phrase marketplace of ideas was originally used as a way of defending free speech. Just as traders and customers are free to buy and sell wares in the market, so freedom of speech ensures that people are free to exchange ideas, test them out, and see which ones rise to the top. Just as good consumer products succeed and bad ones fail, so in the marketplace of ideas the truth will win out, and error and dishonesty will disappear.
There is certainly some truth in the thought that competition between ideas is necessary for the advancement of our understanding. But the belief that the best ideas will always succeed is rather like the faith that unregulated financial markets will always produce the best economic outcomes. As the IMF chief Christine Lagarde put this standard wisdom laconically in Davos: The market sorts things out, eventually. Maybe so. But while we wait, very bad things might happen.
Zombies dont occur in physical marketplaces take technology, for example. No one now buys Betamax video recorders, because that technology has been superseded and has no chance of coming back. (The reason that other old technologies, such as the manual typewriter or the acoustic piano, are still in use is that, according to the preferences of their users, they have not been superseded.) So zombies such as flat-Earthism simply shouldnt be possible in a wellfunctioning marketplace of ideas. And yet they live. How come?
One clue is provided by economics. It turns out that the marketplace of economic ideas itself is infested with zombies. After the 2008 financial crisis had struck, the Australian economist John Quiggin published an illuminating work called Zombie Economics, describing theories that still somehow shambled around even though they were clearly dead, having been refuted by actual events in the world. An example is the notorious efficient markets hypothesis, which holds, in its strongest form, that financial markets are the best possible guide to the value of economic assets and therefore to decisions about investment and production. That, Quiggin argues, simply cant be right. Not only was the efficient markets hypothesis refuted by the global meltdown of 20078, in Quiggins view it actually caused it in the first place: the idea justified, and indeed demanded, financial deregulation, the removal of controls on international capital flows, and a massive expansion of the financial sector. These developments ultimately produced the global financial crisis.
Even so, an idea will have a good chance of hanging around as a zombie if it benefits some influential group of people. The efficient markets hypothesis is financially beneficial for bankers who want to make deals unencumbered by regulation. A similar point can be made about the privatisation of state-owned industry: it is seldom good for citizens, but is always a cash bonanza for those directly involved.
The marketplace of ideas, indeed, often confers authority through mere repetition in science as well as in political campaigning. You probably know, for example, that the human tongue has regional sensitivities: sweetness is sensed on the tip, saltiness and sourness on the sides, and bitter at the back. At some point youve seen a scientific tongue map showing this they appear in cookery books as well as medical textbooks. Its one of those nice, slightly surprising findings of science that no one questions. And its rubbish.
Read more: https://www.theguardian.com/science/2016/jun/28/why-bad-ideas-refuse-die