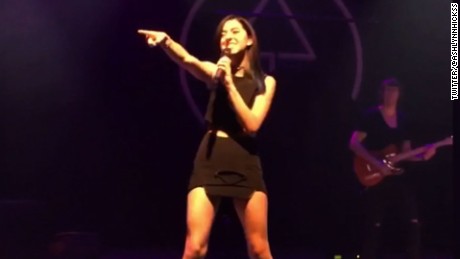 (CNN)Christina Grimmie was destined to be a star from the start.
When she first performed on the NBC show "The Voice" two years ago, some of the judges' eyes flew open. They cheered wildly as they savored her every note — swiveling their chairs forward and pressing their buzzers to express their approval.
<
ul class="cn" cn-list-hierarchical-xs cn–idx-4 cn-zoneadcontainer">
She was a digital phenomenon
Grimmie's fame was not limited to concerts and festivals.
She was a digital powerhouse who amassed more than 3 million subscribers on YouTube. She was discovered when she was a teen six years ago on her YouTube page,
where she belted out powerful renditions of famous cover songs
. Her career has been on an upward trajectory since then, fueled by her memorable appearance on "The Voice."
"There are no words," "The Voice" tweeted after her death. "We lost a beautiful soul with an amazing voice. Our hearts go out to the friends, fans and family."
Her fans included superstars
Grimmie finished third on Season 6 of "The Voice," where her fans included some of the
biggest superstars.
When contestants start on the show, four judges listen with their backs turned to the singer. By the end of the song, the performer hopes at least one of the judges will turn around, signaling they want him or her on their team for the remainder of the competition.
In Grimmie's first appearance on the show in 2014, all four judges wanted her. As she performed Miley Cyrus' "Wrecking Ball," singer Usher, one of the judges, jumped from his seat and pumped his fists in the air. Country crooner Blake Shelton, another judge, tightly closed his eyes, taking in Grimmie's every note.
Since more than one judge wanted her, she had her choice. She ended up on the team of Maroon 5's lead singer, Adam Levine.
"Behati [Levine's wife] and I are absolutely devastated and heartbroken by Christina Grimmie's tragic death," Levine said in a statement.
"Christina was a natural, a gifted talent that comes along so rarely. She was taken from us too soon."
She moved West to pursue her dream
Grimmie was not one to shy away from following her dreams. The New Jersey native moved to Los Angeles to pursue a music career.
She released her first album in 2011 titled, "Find Me," which debuted at number 2 on iTunes, according to her website.
Shortly afterward, she packed her bags and moved to the West Coast. She released her sophomore album, "With Love," and her career kept blossoming. Last year, she was selected as a rising star for Macy's iHeartRadio.
Despite her new home thousands of miles away, she mused about the pros and cons of both coasts.
"Los Angeles traffic is just the worst thing in the world. It throws off timing so much," she posted on her website. "However, it's always warm and sunny. New Jersey has absolutely terrible weather but the environment is really homey and chill."
She said no to skimpy outfits
"I've absolutely fought against having to be half-naked to sell a track," the Daily Record quotes her as saying.
"Someone asked me the same question five years ago and it was the same answer then. They say, 'We'll pay you this check if you sing this line or dress in this particular outfit. People tell you what you have to wear and do and I've never been a fan of it."
Her ties with Selena Gomez went beyond music
She went on to form a fast friendship with Gomez, and credits the pop star with a lot of her life lessons.
"She really taught me two things. First: be yourself no matter who talks crap about you. She said, "You have to be yourself in every situation." The other thing is to keep going when you mess up live."
Gomez tweeted a picture of herself with Grimmie, saying, "My heart is absolutely broken. I miss you Christina."
Read more: http://www.cnn.com/2016/06/11/entertainment/christina-grimmie-who-was-she/index.html