<figure class="media-landscape" no-caption full-width lead">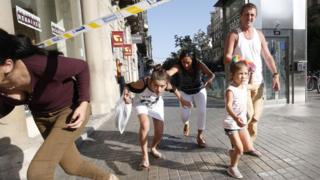 Image copyright Getty Images
A series of attacks in Europe over the summer months has raised the number of people killed in the West by jihadists during the past three years to more than 420, writes Dr Lorenzo Vidino.
The deaths of 16 people in Barcelona and Cambrils earlier this month highlighted the continued threat posed by Islamist militants.
The summer months have also seen new attacks in Belgium, France, Austria, Germany and the UK, as well as the first in Finland and one in the US.
Although the vast majority of Islamist attacks are elsewhere in the world, an unprecedented number have taken place in Europe and North America since the declaration of a "caliphate" by the so-called Islamic State, in June 2014.
The first look at the data behind the attacks – everything from the age of the perpetrators, to immigration status – offers an insight into those responsible and how they might be tackled.
<div id="bbccom_mpu_1_2_3″ class="bbccom_slot" mpu-ad" aria-hidden="true">