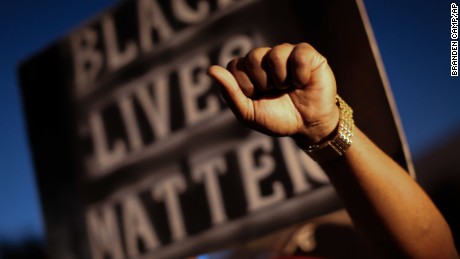 (CNN)Among the results of the recent deadly police shootings in Tulsa, Oklahoma, and Charlotte, North Carolina, is the additional jolt of grim reality enhancing the rap artist T.I.'s video of his "War Zone," which depicts scenes of excessive, at times deadly police force used against unarmed citizens and other incidents of harassment. The blunt, brutal twist is that racial roles are reversed to show the police as black and the victims as white.
It's a provocative approach that has people talking. Which is good: We have a lot to talk about in this country when it comes to race. Maybe that's why so many of us try to avoid what we continue to euphemize as "our ongoing national dialogue." And when we can't avoid it, we try to keep it contained within boundaries familiar and safe — in other words, terms we can live with, guaranteeing that what we believe — whether "we" are black or white — will always be validated.
<
ul class="cn" cn-list-hierarchical-xs cn–idx-4 cn-zoneadcontainer">
There's a lot to unpack from this exchange, and maybe the best way to do so is to present one's own response in four parts, point by point:
1. If, as Noah says, there are those who accuse hip-hop artists and fans of employing a double standard when it comes to violence against black Americans, then it sounds to these ears as yet another cop-out, an excuse to avoid confronting the repercussions of the often shocking images we've all seen in the last couple years of unarmed African-American men and boys being shot by police. Hypocrisy has its own way of chasing its own tail while presuming to track it down in others.

2. Then again, the kind of inquiry into root causes of violence — what T.I. labels "the environment" — has been noticeably AWOL in our public discourse since the 1980s as the center of American political discourse edged more to the right. At the same time the examination of economic and social factors behind street crime was considered by increasingly influential conservative politicians and pundits as tantamount to "making excuses" for or "coddling" criminals. The more recent police shootings have marked a shift in such emphasis. But even as that adjustment continues, there are now and will continue to be arguments over whose responsibility it will be to change that environment: the minorities who live in the community or the nation's political and economic powers.
<
div class="el__storycontent" el__storycontent–standard">Join us on Twitter and Facebook