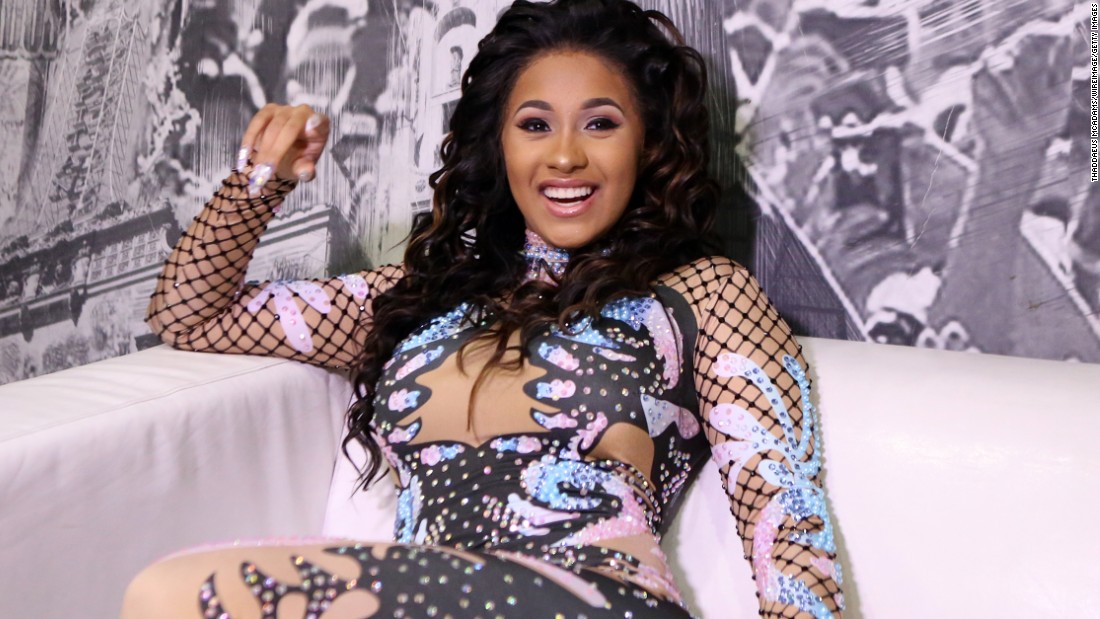 (CNN)To borrow a word that Cardi B is now somewhat famous for, she's looking to be a part of the music industry "forever."
The rapper is off to a pretty good start.
<
ul class="cn" cn-list-hierarchical-xs cn–idx-5 cn-zoneadcontainer" data-layout="list-hierarchical-xs">
Cardi B, whose birth name is Belcalis Almanzar, became the first female rapper to achieve that milestone as a solo artist since since Lauryn Hill in 1998.
The song she did it with, "Bodak Yellow (Money Moves)," has become one of the jams of the year — an ear worm that's almost impossible to escape these days.
Here's what you need to know about Cardi B:
She don't dance now, she makes money moves
A former exotic dancer, she first came to fame via her no-holds-barred social media presence.
Fans got to see a lot of Cardi B in the early days of her Instagram account, and she was proud to show off — and discuss — her plastic-surgery-enhanced body.
Not to mention her sexuality, her profanity-laden comments and her desire to become famous and make lots of money.
Which brings us to how she got on the path to music stardom.
Love & Hip Hop
Her viral presence helped secure her a spot on VH1's popular reality series "Love & Hip Hop: New York" during Season 6 in 2015.
Tension between Cardi B and the girlfriend of fellow cast member DJ Self figured prominently in the season's storyline and resulted in Cardi B uttering one of the show's most famous lines ever.
"A girl have beef with me, she gonna have beef with me," she said with a pause and a dramatic turn."Forever."
Speaking of catchphrases
Cardi B has a way with words and one in particular has become linked to her.
If you hear someone referring to money as "schmoney," they may have gotten it from her.
Rapper Bobby Shmurda did the "Schmoney Dance" song, but Cardi B helped to make it even more popular.
By the way, the word refers to making money quietly as in "shhh money."
The reverse "Despicito"
The Bronx born artist is Dominican and Trinidadian and paid homage to her Latina roots by doing a Spanish language version of "Bodak Yellow."
Latin rap star Messiah joins her on the track, which she said on social media was inspired by her family.
"A lot of my family members on my dad['s] side of the family don't understand English," she wrote on Instagram. "I wanted to make them proud. Sooooo I did BODAK YELLOW IN SPANISH!!!"
Ok sooo here it is GUYS ! On ITUNES NOW !!! Soon every where !!BODAK YELLOW IN SPANISH ft @messiahgram .A lot of my family members on my dad side of the family don't understand English .I wanted to make them proud ,Sooooo I did BODAK YELLOW IN SPANISH !!I also love Spanish music !!!😎😎😎😍😍😍❤️❤️❤️COP NOW …what you guys think !!
Another summer hit, "Despacito" by Luis Fonsi ft. Daddy Yankee, was first recorded in Spanish and then a second version was released with some English lyrics and Justin Bieber.
She's getting so much love
Some folks may have taken her as a joke when she first came into the rap game, but Cardi B is making everyone a believer now.
She's earned nine nominations for this year's BET Hip Hop Awards, including best new artist and single of the year.
That puts her in company with producer DJ Khaled and rapper Kendrick Lamar, who also have nine nominations.
Vogue followed her
as she got ready for the "Mothership" Vogueing Ball that kicked off New York Fashion Week.
One of the biggest marks of Cardi B's arrival was the seal of approval from fellow raptress Nicki Minaj, who congratulated Cardi B on nabbing the top of the charts.
"Congratulations to a fellow NEW YAWKA on a RECORD BREAKING achievement," Minaj tweeted. "Bardi, this is the only thing that matters!!! Enjoy it."
Read more: https://www.cnn.com/2017/09/26/entertainment/cardi-b-rapper/index.html