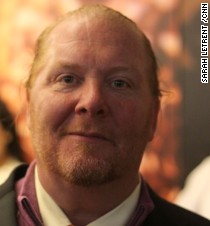 Washington (CNN)On Monday night, Mario Batali was sitting awake at his hotel in Washington worrying about cold pasta.
The famed Italian-American chef, tapped by the White House to craft a menu for President Barack Obama's final state dinner on Tuesday, likes his food hot. The logistics of carting at least 400 plates of sweet potato agnolotti with butter and sage from the White House kitchen to a massive tent 200 yards away was, in Batali's telling, a slight concern.
<
ul class="cn" cn-list-hierarchical-xs cn–idx-4 cn-zoneadcontainer">
"If there's one thing that I'm not going to sleep well about tonight, it's only going to be the hot plates," Batali said in between preparation sessions at the White House Monday. "I think I'll be shaking in my orange crocs tomorrow when it's about a half-hour before service."
Longtime staffers, experts in the finely tuned dynamics of the most formal of events, assured Batali there was little to worry about. And after eight years and 14 Obama state dinners, there's likely very little that would likely go overlooked Tuesday night when the Obamas host Italian Prime Minister Matteo Renzi and a constellation of Italian and American boldface names on the South Lawn.
The guest list released about an hour before the dinner began contained celebrities like comedian Jerry Seinfeld, singer Frank Ocean, race car driver Mario Andretti, chef Rachael Ray and actor Roberto Benigni.
The event is a bookend to the administration's first state dinner in 2009, held in honor of India and marred by gate-crashers. Since then, the Obamas have welcomed both close allies — Germany, the United Kingdom and Canada — as well as countries with frostier US ties, including two state dinners in honor of China.
The events have attracted celebrities, lawmakers, diplomats, athletes and fashion designers — and the celebration of Italy was no different. Gwen Stefani will perform after dinner, and brought as a date her boyfriend, country star Blake Shelton.
Renzi, an outspoken advocate of the Italian fashion industry, invited Giorgio Armani as a guest.
The evening won't be completely free of US politics. Renzi says he supports Hillary Clinton, and when guests arrive Tuesday they'll be greeted by a group of acapella singers from a non-profit organization backed by Rosie O'Donnell, whom Donald Trump has spent the last decade maligning.
There's little secret, too, that White Houses past and present have rewarded donors and like-minded politicians with coveted invites to state dinners, meaning conversation around the pink-draped tables Tuesday won't likely be favorable to Trump. Among the prominent Democrats invited: House Democratic Leader Nancy Pelosi and New York Gov. Andrew Cuomo.
Those who do score the last golden ticket of the Obama tenure will dine on those hopefully warm agnolotti (a sample tasted by a reporter Monday was creamy, autumnal and piping hot), warm butternut squash salad, beef braciole with horseradish gremolata, and green apple crostata with thyme caramel for dessert.
Batali said he enlisted his top associates from his New York restaurants Del Posto and Babbo to help with the preparations. He's had about two months to get ready. And while he called the Obamas "quite literate gourmands," he said the guest of honor will get most of his attention.
"You generally don't worry that much about Americans when you're cooking pasta," he said. "You worry about the Italians. So Prime Minister Renzi is the one whose plate I'm going to watch most closely."
Read more: http://www.cnn.com/2016/10/17/politics/white-house-state-dinner-mario-batali-italy/index.html