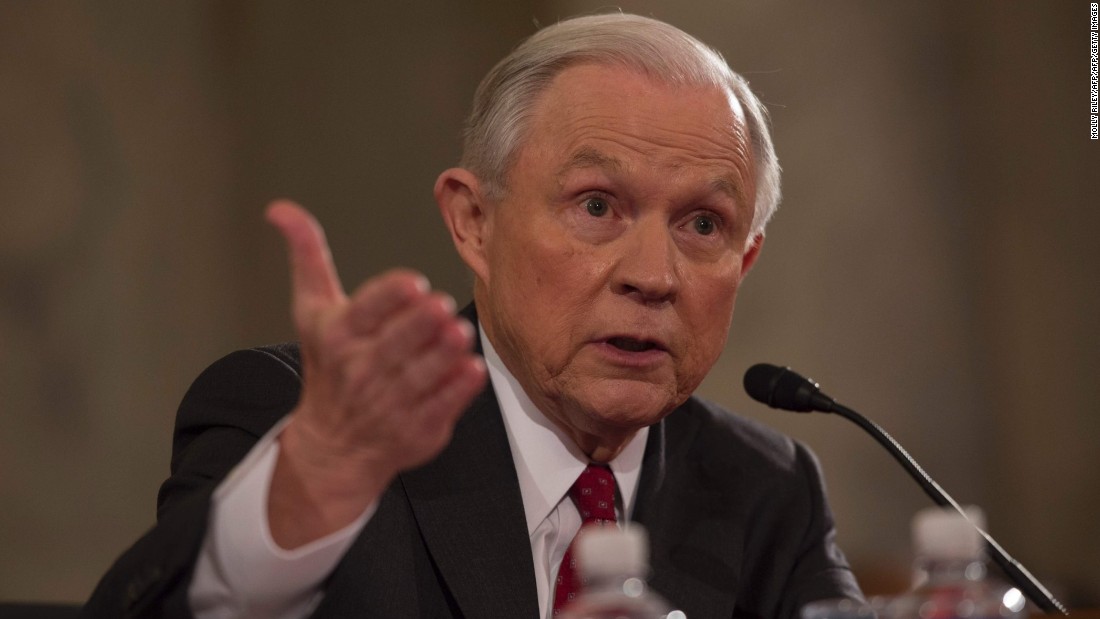 Washington (CNN)The first Tuesday of the new administration is set to be full of confirmation hearings on Capitol Hill.
Here's what's going on in Washington on Tuesday:
Energy committee vote on interior and energy secretaries postponed
<
ul class="cn" cn-list-hierarchical-xs cn–idx-4 cn-zoneadcontainer">
Previously, the Senate Committee on Energy and Natural Resources was scheduled to meet at 9:30 a.m. to vote on the nominations of Montana Rep. Ryan Zinke for interior secretary and former Texas Gov. Rick Perry for energy secretary.
But the committee issued a statement late Monday postponing the votes "until further notice."
At his hearing last week, Zinke
said climate change is not a "hoax"
and that "man has had an influence," a statement that may help appease Democrats who are concerned about Trump's statement from December when he said "nobody really knows" if climate change is real.
During his hearing last week, Perry said he regrets
previously saying he would abolish the Energy Department,
which he is nominated to lead. Democratic aides on the committee have said that they are not concerned with Perry's lack of scientific experience, noting that the role of energy secretary has not always gone to a scientist.
Finance committee hearing for health and human services secretary
Georgia Rep. Tom Price has already had his confirmation hearing with the Senate Committee on Health, Education, Labor and Pensions. Now, he testifies before the Senate Finance Committee at 10 a.m. The congressman and orthopedic surgeon has been a
significant critic of the Affordable Care Act
, and has worked to dismantle the law in the past. Price is now also under scrutiny after CNN
reported on a questionable stock
purchase.
Judiciary committee vote on attorney general
Also at 10 a.m. on Capitol Hill, the Senate Judiciary Committee will meet to vote on whether to confirm Alabama Sen. Jeff Sessions to be attorney general. Sessions sat before the committee last Tuesday where he drew a number of
Democratic opponents
due to his
record.
However, Republicans hold a majority in the Senate and the nomination is expected to pass.
Commerce Committee vote on commerce and transportation secretaries
Another 10 a.m. meeting will be for the Senate Commerce Committee to vote on the nominations of Elaine Chao for transportation secretary and Wilbur Ross for commerce secretary.
Budget Committee hearing for OMB head
South Carolina Rep. Mick Mulvaney is set to testify before the Senate Budget Committee at 10:30 a.m. after being nominated by President Donald Trump to head the Office of Management and Budget. Last week, it was revealed that Mulvaney
did not pay more than $15,000
in payroll taxes
for a household employee.
A source from Trump's transition team told CNN that Mulvaney, who at the time was the father of newborn triplets, hired a "sitter" and didn't realize he needed to pay taxes on her income. The aide declined to say where the employee was from.
Small Business and Entrepreneurship committee hearing
Also at 10:30 a.m., the Senate Small Business and Entrepreneurship Committee will meet for their hearing on Linda McMahon, who Trump nominated to lead the Small Business Administration.
McMahon, the former CEO of World Wrestling Entertainment, gave millions to Trump to support his presidential campaign, including a
$1 million donation
just before the election.
Foreign Relations committee vote on UN Ambassador
At noon, the Senate Foreign Relations Committee will vote on the nomination of South Carolina Gov. Nikki Haley, Trump's choice for UN ambassador.
During her
confirmation hearing last week
, Committee Chair Tennessee Sen. Bob Corker said that Haley is expected to be confirmed "overwhelmingly." The committee questioned Haley about her lack of dealing with foreign affairs, but commented her time as governor of South Carolina has made her ready for this position.
Closed Senate Intelligence committee hearing
A closed-door Senate Intelligence Committee hearing will take place at 2:30 p.m.
House vote on taxpayer-funded abortions
On Tuesday, the House will vote on H.R. bill "No Taxpayer Funding for Abortion and Abortion Insurance Full Disclosure Act of 2017."
Read more: http://www.cnn.com/2017/01/23/politics/tuesday-in-washington-schedule/index.html