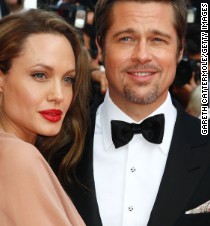 (CNN)Films have been an integral part of Angelina Jolie and Brad Pitt's relationship.
The pair met on the set of "Mr. and Mrs. Smith" in 2004, and in 2015 they again starred as a married couple in "By the Sea," which Jolie also wrote and directed.
<
ul class="cn" cn-list-hierarchical-xs cn–idx-4 cn-zoneadcontainer">
"It's surprising how much I enjoy the direction of my wife,"
Pitt told V magazine
last fall about working with his wife in "By the Sea." "She's decisive, incredibly intuitive, and might I say sexy at her post. I trust her with my life."
Now, with Jolie filing for divorce, there is tremendous buzz, which is sure to spill over to their upcoming projects.
It's already happening for Pitt.
Promotion for his latest film "Allied" had some interesting timing.
The World War II drama co-stars Marion Cotillard as a French resistance fighter who falls in love with an American intelligence officer (played by Pitt) while on a mission in North Africa.
A second teaser trailer showing the characters in a steamy embrace dropped on Tuesday — the same day it was revealed that Jolie had filed from divorce from Pitt.
Drew Hawkins, managing director and head of Morgan Stanley Global Sports & Entertainment, said the attention from a high profile split can go either way in terms of payoff for the stars.
"These are people who sign contracts all the time and make plans for their career all the time," Hawkins said. "The more that they can think practically about their relationships ahead of time, I think it helps to defray a lot of the negativity."
Pitt and Jolie are such a high profile couple, there is almost no chance that the world won't be interested.
The adage that any publicity is good publicity will be tested as both Pitt and Jolie have multiple upcoming projects.
In addition to "Allied," which opens on November 23, Pitt is on the big screen (sort of) as the narrator of Terrence Malick's IMAX film "Voyage of Time" which is in theaters October 7.
Pitt also has a role in the satirical "War Machine," which is out next year, as well as the highly anticipated "World War Z 2," the sequel to his successful 2013 film.
Jolie will also be busy both in front of and behind the camera.
She has an upcoming Netflix adaptation of the memoir "First They Killed My Father: A Daughter of Cambodia Remembers."
Her Jolie Pas production company has an upcoming animated film, "The Breadwinner," which tells the story of an Afghan girl who disguises herself as a boy to support her family.
And like Pitt, the actress is also prepping for a sequel. Jolie will star in "Maleficent 2," which does not currently have a release date.
At the very least, Jolie and Pitt can expect questions about their breakup while promoting their projects. Whether or not that translates to a bounce at the box office remains to be seen.
But at least one of their movies is popping up all over social media.
Fans couldn't help but reminiscence about the film that started it all — their action-packed "Mr. and Mrs. Smith," about a married pair of spies who don't get along.
"Why is everyone surprised Brad Pitt and Angelina Jolie are getting a divorce," one person tweeted. "They literally made a movie about trying to kill each other."
Read more: http://www.cnn.com/2016/09/21/entertainment/brad-pitt-angelina-jolie-movies/index.html