<figure class="media-landscape" no-caption full-width lead">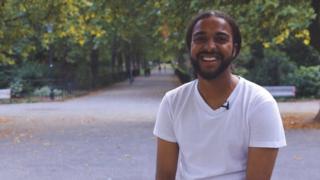 Image copyright Faizal Malek
Mohamed Mohamed is a poet and football coach from London. On Christmas Day, he gets on his bike and photographs the capital's uncharacteristically quiet streets.
For him, 25 December is just an ordinary day.
But he makes the most of it – while many others are inside opening presents and preparing a Christmas meal, he gets out and about in the city.
"Usually, every Christmas, I wake up really early in the morning," says Mohamed, "and right after the morning prayer, I cycle to my local mosque to pray and then I cycle towards major tourist sites in London, and take photos of places that are normally busy while they're at peace."
When Mohamed tweeted the photos he took of locations that are often brimming with people looking entirely empty, they were shared almost 7,000 times and liked more than 9,000 times.
Mohamed made this a tradition for six years until 2016, when he got married and things became a bit different.
"My wife's family is Christian, so we go to Cardiff to celebrate Christmas with them – and they celebrate Eid with us," he says.
'You forget it's Christmas Day'
For Richard Verber, the Senior Vice President of the Jewish Board of Deputies, the festive period is about marking and celebrating Jewish culture during a five-day festival called Limmud.
There, families swap the traditional Christmas experience for a festival with "everything from philosophy, religion and theatre, to music, drama and politics", he says.
At home, Verber doesn't put up a Christmas tree but when he's at work he does take part in a secret Santa.
Christmas celebrations are everywhere in the UK, especially considering Britons' enthusiasm for the season.
So do non-Christians feel left out?
<figure class="media-landscape" has-caption full-width">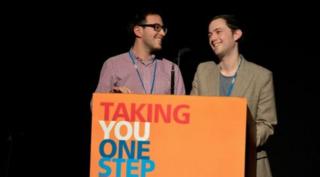 Image copyright Limmud

Image caption Richard Verber (right) with Oliver Marcus (left), co-chair of the Limmud Festival
Verber says: "At Limmud you can sometimes forget it's even Christmas Day because you're so busy from morning to night going to different sessions and catching up with friends."
He also notes that "the Jewish festival of Chanukah usually falls around this time and that does involve presents so I don't feel too left out."
'Off work and available'
Even though Christmas doesn't have any religious value to non-Christians, many do take part in some of the traditions – such as giving gifts, having a family meal and even putting up a tree.
Writer Ruchira Sharma, who identifies as being culturally Hindu, says while there are no strict traditions in her family, they have recently started taking part in the festivities.
She says: "We have invited family and friends round and cooked dinner for them. Usually it's a roast and Indian food so I suppose a combination of both cultures, but it's all very relaxed."
While Sharma's family does put up a tree for Christmas, the lights serve multiple purposes: "We usually have a tree [that] my sister decorates, and lights [that] stay up since Diwali."
<figure class="media-landscape" has-caption full-width">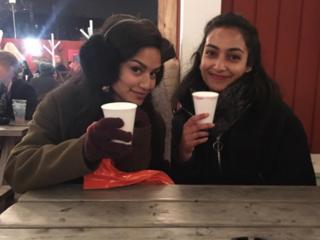 Image copyright Victoria Spencer

Image caption Ruchira Sharma (right) with a friend at a Christmas market
Similarly, Balvinder Kaur from the Sikh Council says that her family joins in on the festive season, even though it is not a religious observation.
"It's an opportunity to celebrate and be together," she says.
"We definitely do get involved with the cultural aspect. We cook a specific meal and eat it together because everyone is of course off work and available, but it doesn't have a religious meaning."
You may also like:
Read more: http://www.bbc.co.uk/news/uk-42442743