The 2016 MTV Video Music Awards are only days away, so why don't we ready ourselves for the glitz, glam and Godney with a quick refresher course on what to expect Sunday night?
Much like the changing winds of Britney Spears' career, this award show is famous for its unpredictability — but there are a few things we can confirm about the actual ceremony.
Before the VMAs kick off at 9 p.m. ET, Snapchat impresario DJ Khaled will serve as the pre-show host alongside MTV2's Charlamagne Tha God and MTV's "Wonderland" Host Lizzo. Major pre-show key? VMA newbies Alessia Cara, Jidenna and Lukas Graham are all set to perform.
A host for the award show, if there is one, has yet to be announced (Miley, what's good?), but Spears is confirmed to perform her hit single "Make Me" featuring rapper G-Eazy. This will be the pop star's first appearance on the VMAs stage since she stumbled in more ways than one through her disastrous 2007 performance. And yet, the VMAs wanted more, announcing her comeback in a Britney-themed video on Tuesday.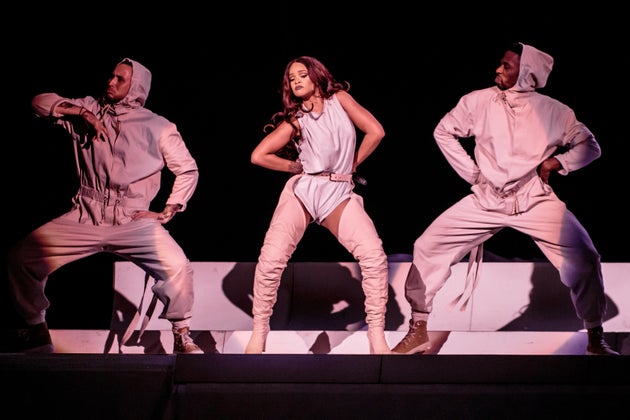 <
div class="content-list-component" text">
Rihanna is the distinguished honoree of the evening, accepting the prestigious Michael Jackson Video Vanguard Award, which recognizes musicians who have contributed significantly to MTV culture. Past honorees include Justin Timberlake, Beyoncé and Kanye West. She is rumored to perform multiple times throughout the show, so fingers crossed for a surprise Drake appearance.
Ariana Grande and Nicki Minaj are also set to take the stage for the first time since their 2014 all-female "Bang Bang" team-up with Jessie J. Remember? A wardrobe malfunction forced Minaj to hold her dress together during the number to keep her from flashing the crowd. The duo will most likely perform the threesome anthem of the century, "Side to Side," off Grande's new album "Dangerous Woman." Someone bring safety pins.
Future and Nick Jonas will have their moment in the sun as well with highly anticipated performances of their own. The former boy bander will serve up his curiously titled single "Bacon" featuring Ty Dolla $ign for the audience, while the rapper's song selection remains unconfirmed. To round out the performances, the Chainsmokers and Halsey will treat all watching to their song of the summer, "Closer."