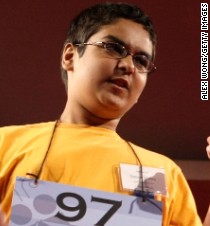 (CNN)By the time he was 6 or 7 years old, Sameer Mishra was a pretty confident speller. His memory was sharp, he liked to read, and he actually enjoyed the weekly tests at school. While his parents drilled his older sister, a National Spelling Bee competitor, he'd angle for his own list of words.
Within a few years, he made it to the big bee in Washington, too. On his fourth and final trip there in 2008, he won by spelling the word "guerdon," meaning "something that one has earned or gained." Yes, Mishra is a good speller.
<
ul class="cn" cn-list-hierarchical-xs cn–idx-4 cn-zoneadcontainer">
But everyone knows people who claim they're terrible at it and never were any good. They'd rather just use spellcheck, they say. To Mishra, they'll confess, embarrassed, "I misspelled 'banana' in the fifth-grade spelling bee" and just gave up.
So what is it that separates the spelling stars from the dictionary-deficient?
For those on stage at the National Spelling Bee this week, it often meant five hours a day memorizing words or studying etymology. For the perfectly good, non-bee spellers among us, it might mean they enjoyed reading from an early age.
<
div class="zn-body__read-all">
But research published this year in the
journal Brain
suggests it has something to do with how some people's brains retrieve words — or don't — and how we manage to get them out — or not.
The science of spelling
For as easy as the teens on stage make it look to spell "scherenschnitte" and "nunatak," there's a lot happening inside to produce each word.
Start with something a little simpler: "If I tell you a word like 'yacht' and ask you to spell it, maybe you can do it," said
Brenda Rapp
, a cognitive science professor at Johns Hopkins University and lead author of the Brain study.
If you heard the word and came up with y-a-c-h-t, it probably emerged from the areas of the brain that hold orthographic long-term memory, where spelling knowledge is stored.
<
div class="el__embedded" el__embedded–standard">