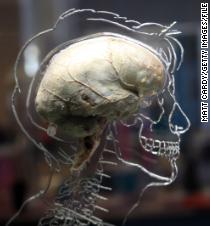 (CNN)Cell phone video released Friday recorded Rakeyia Scott, the wife of Keith Lamont Scott, who was fatally shot by Charlotte police, screaming, "He has a TBI," or traumatic brain injury. On Thursday, Scott's mother told CNN affiliate WCSC about a "near-death" motorcycle accident her son survived last year.
"He had some issues with his brain, and he had two broken hips, and (his) pelvis broke in half, and his nose was broken," Vernita Scott Walker said. "It caused him to stutter his words, and sometimes he couldn't remember what he said."
<
ul class="cn" cn-list-hierarchical-xs cn–idx-4 cn-zoneadcontainer">
What causes traumatic brain injury?
A traumatic brain injury usually results from a blow to the head, such as a direct hit like a car accident in which a person's head hits the windshield. It also can occur from severe shaking in which there is no impact to the outside of the head, but a movement forceful enough to shake the brain inside the skull. An example may be a car accident in which the head shakes at the neck and is jolted but does not collide with a surface. A more extreme example is when an object impales the skull.
Traumatic brain injuries have been linked to sports such as football and soccer, combat injuries as diagnosed in war zones, falls and physical violence.
<
div class="zn-body__read-all">
How bad are traumatic brain injuries?
The injury in any of these instances can range from mild to severe.
Individuals with a mild case may become dazed or confused. There could be a brief loss of consciousness, such as blacking out for a few seconds.
Other symptoms,
according to the Mayo Clinic
, can include headache, dizziness, loss of balance, drowsiness, having trouble sleeping or sleeping more than usual, depression, anxiety, mood swings, behavioral changes, an inability to concentrate and memory problems. These patients may also experience blurry vision, ringing in the ears, an inability to smell or a bad taste in the mouth.