<figure class="media-landscape" has-caption full-width lead">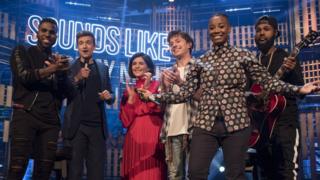 Image caption Jason Derulo, Greg James, Jessie Ware, Charlie Puth, Dotty and guitarist wrap up the first episode of SLFN
"I cannot stress it enough: this is a gig."
Warm-up man Stuart Holdham is laying the ground rules for the studio audience at Sounds Like Friday Night, a brand new pop show on BBC One.
"Don't clap along to the music because you should be dancing," he continues.
"And if I see any dad dancing, you'll be removed from the studio, driven to Manchester and forced to watch six hours of Jeremy Kyle."
For all of his humour, there's no mistaking it: this is a big deal for the BBC.
<div id="bbccom_mpu_1_2_3″ class="bbccom_slot" mpu-ad" aria-hidden="true">