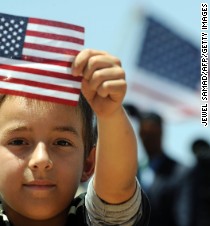 (CNN)Latino? Hispanic? Spanish speaker? Native born? When it comes to defining Latino identity in the United States today, the one common thread is its sheer complexity.
In the latest episode of the CNN Original Series
"United Shades of America,"
W. Kamau Bell explores two Los Angeles communities where the majority of the residents are of Mexican descent — East L.A. and Boyle Heights.
<
ul class="cn" cn-list-hierarchical-xs cn–idx-4 cn-zoneadcontainer">
Bell asks people in East L.A. to describe the state of Latinos in America today.
"We're a growing force to be reckoned with," says one man.
"We're taking over," says another.
Indeed, in 2014,
the Hispanic population
in the United States reached a high of 55.4 million, or 17.4% of the total U.S. population.
But the growth rate of the Hispanic population overall has slowed, in large part because fewer Mexicans are coming into the United States than there were decades ago.
Native-born Hispanics are now the driving force
behind the current population growth.
California is still the state with the largest Hispanic population in the country with 15 million followed by Texas (10.4 million) and Florida (4.8 million).
As the term "Latino" gains more traction in the United States, it carries with it an additional concern — gender. Instead of opting for Latino (masculine) and Latina (feminine), an emerging constituency of Latinos are pushing for a new gender-neutral term: "Latinx."
In a 2015 article for Latina magazine
Raquel Reichard described the term
, pronounced "La-teen-ex," as including "the numerous people of Latin American descent whose gender identities fluctuate along different points of the spectrum."
In his opening monologue for the episode, Bell takes issue with the use of the word "minority" to describe "all the people that are darker than Vin Diesel and blend them together."
As Latinos continue to debate identification issues, they move closer toward creating identities that are more personal, and thus more reflective of their unique experiences.
What could be more American than that?