With his incomparable aesthetic vision and offbeat sense of humour, Anderson is one of todays quirkiest film-makers. New stop-motion release Isle of Dogs is possibly his most out-there story yet but how does it rate?
Andersons Indian train jaunt met the quota in terms of colourful compositions and visual panache (what better vehicle for his famous tracking shots than a train?), but exposed a privileged viewpoint that Anderson often struggles to shake. There was something distasteful about following three wealthy, troubled, white American brothers (metaphorical Louis Vuitton luggage in tow) across a landscape that seemed airbrushed of real-world poverty for the sake of hipster-friendly visuals, with an Indian boys drowning acting as a catalyst for their healing.
Lets face it, Bill Murrays Cousteau-like ocean explorer is a bit of a grump. He spends most of the film in a morose funk, brought on by his family baggage and his obsessive quest for the jaguar shark that ate his partner. And along for the ride is a crew of famous faces who seem to have nothing to do. Despite the lavish cutaway-ship set, the bespoke Adidas trainers, the nonsense sea creatures (designed by Henry Selick) and the rest, the films most lasting element was Seu Jorges Portuguese-language Bowie covers. Thats a sign of failure.
Compared with its successors, Andersons 1996 debut is practically a Dogme film. Unencumbered by budget or mannerism, it has a freewheeling roughness, the snappy dialogue and witty details hinting at bigger things to come. A ramshackle, slightly shallow tale of three friends whose commitment to a life of (petty) crime is not matched by their competence, it was also the debut of Andersons Texas buddies Luke and Owen Wilson (the latter steals the show) an auspicious, if flawed, beginning.
Its only 13 minutes long but Andersons single-location two-hander ostensibly a warmup for The Darjeeling Limited proves that he can do perfectly well without the bells and whistles, perhaps better. Theres practically nothing to it: Jason Schwartzman is holed up in an expensive Paris hotel room; Natalie Portman visits for a last goodbye. Peter Sarstedts Where Do You Go (To My Lovely)? plays on the iPod. But this minimal story captures a moment, and theres a sense of what went before and what will come after. He should do more like it.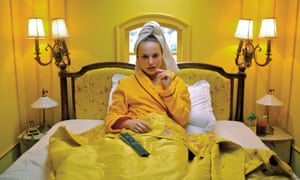 Read more: https://www.theguardian.com/culture/2018/mar/23/the-best-wes-anderson-movies-ranked