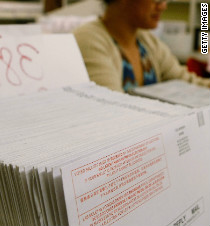 (CNN)Despite what the Republican presidential nominee and hordes of Twitter eggs would have you believe, voter fraud isn't a threat to American democracy. In fact, from 2000 to 2014 there were only 35 credible allegations of voter fraud out of more than 800 million votes cast.
So, let me be clear: There should be no doubt that the results of the 2016 election will be valid. The presidential election is not rigged. Anyone who says otherwise is actively undermining our democracy for personal or political gain.
<
ul class="cn" cn-list-hierarchical-xs cn–idx-4 cn-zoneadcontainer">
But that doesn't mean Americans can be complacent. Our democracy is strongest when more citizens vote, and when voters are confident that their vote is being counted.
That is why I have sought to expand Oregon's vote-by-mail and voter registration system nationwide. While former KGB agent and now Russian President Vladimir Putin tries to meddle in our election and special interests look to lock out working Americans and minorities who would vote against them, vote-by-mail offers the best solution we have to protect the integrity of our election system.
<
div class="el__embedded" el__embedded–standard">