Weddings and TV shows cancelled as thousands gather to watch funeral cortege of veteran dictator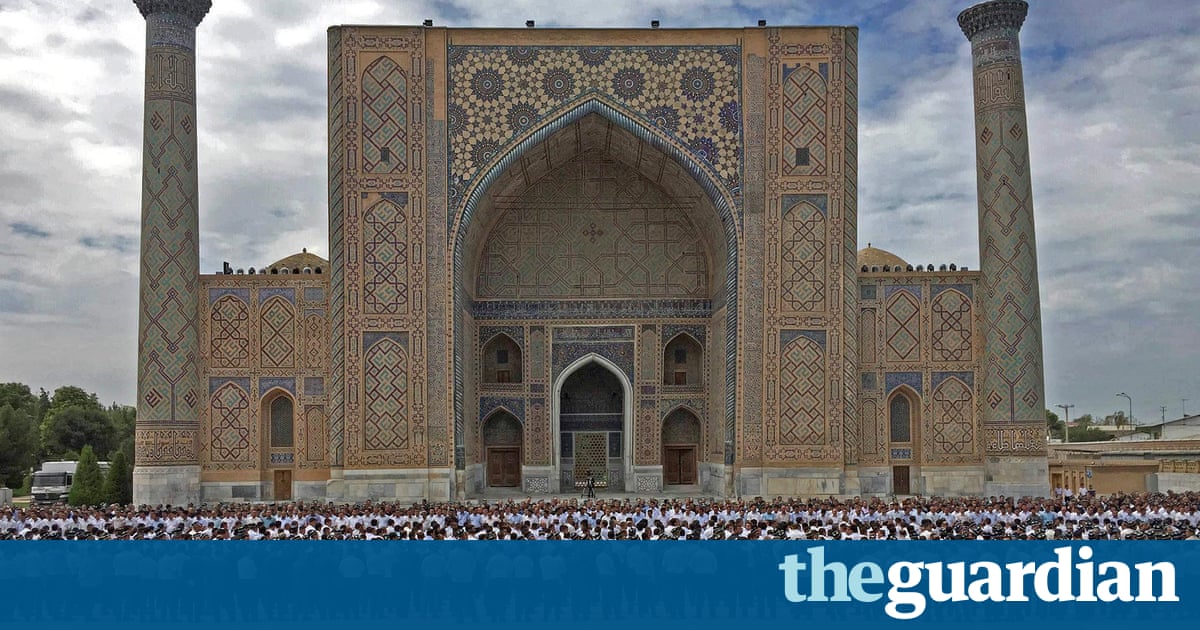 Uzbekistans president, Islam Karimov, has been buried in an elaborate ceremony after a week of rumours about his ill health. Thousands gathered along the presidential highway in the capital of Tashkent at 5am on Saturday to see off Karimovs funeral cortege on its way to the airport.
An honour guard marched his coffin to the presidential plane, which left for Samarkand, Karimovs hometown. There some 20,000 men took part in Muslim farewell prayers in front of the Tilla-Kori madrasa, Rossiya 24 television reported. The body was carried through the crowd before being taken to the Shah-i-Zinda mausoleum for the first burial there in 20 years.
He wasnt our president but our father. We came to bury our father, Samarkand resident Yevgeniya Mikoryan said. We even cancelled a wedding, because if someone dies its bad luck. And when your father dies, what wedding could there be?
Delegations from 17 countries came to Samarkand for the funeral, including the presidents of Afghanistan, Tajikistan and Turkmenistan. Prime minister, Dmitry Medvedev, headed the Russian delegation. President Vladimir Putin called Karimovs death a heavy loss for the people of Uzbekistan. Barack Obama said the United States reaffirms its support for the people of Uzbekistan.
Karimov, 78, had kept a tight grip on power in the central Asian nation for 27 years and was re-elected last year with more than 90% of the vote, amid criticism from election observers.
The independent Fergana news agency reported on Monday that Karimov had died following a stroke, but the government only announced his death late on Friday night, hours after Turkeys prime minister, Binali Yldrm, expressed his condolences.
Umida Akhmedova, a photographer and videographer in Tashkent, said that, even before the official announcement, word was spreading that he would be buried on Saturday.
Karimov left no anointed heir, causing many to speculate about the countrys future leadership. Senate chair, Nigmatilla Yuldashev, became acting president upon Karimovs death, but prime minister, Shavkat Mirziyoyev, who was appointed mourner-in-chief, is seen as a more likely successor.
When I talk to people, theyre not hitting their head on the wall and wailing, but people are worried about what will be next, who will rule, because Karimov was the only president this country ever had, Akhmedova said. Many say that maybe there will be clan wars.
The atmosphere has been sombre despite festivities last week to mark 25 years of independence from the Soviet Union. Entertainment shows have been temporarily banned from the Uzbek television channels in favour of educational shows that tell about the history and culture of our country, Novosti Uzbekistana newspaper reported.
According to Fergana News editor Daniil Kislov, Karimovs successor will probably continue his repressive policies. Although Uzbekistans economy has grown in recent years, Human Rights Watch has accused the regime of throwing thousands of critics in prison, where many have reported torture and ill-treatment. At least 187 protesters were massacred in Andijan in 2005.
Kislov said unrest was not likely in the transition period. Its quiet like a cemetery, as if not just Karimov but everyone had died, he said. Theres no discussion, no opposition, no civil society, its empty territory, so nothing will happen, nothing will change.
Read more: https://www.theguardian.com/world/2016/sep/03/islam-karimov-uzbekistan-president-burial-samarkand