Justin Thomas recorded the first nine-under-par round in US Open history as the American Brian Harman finished one shot ahead after the third round, with Tommy Fleetwood in a share of second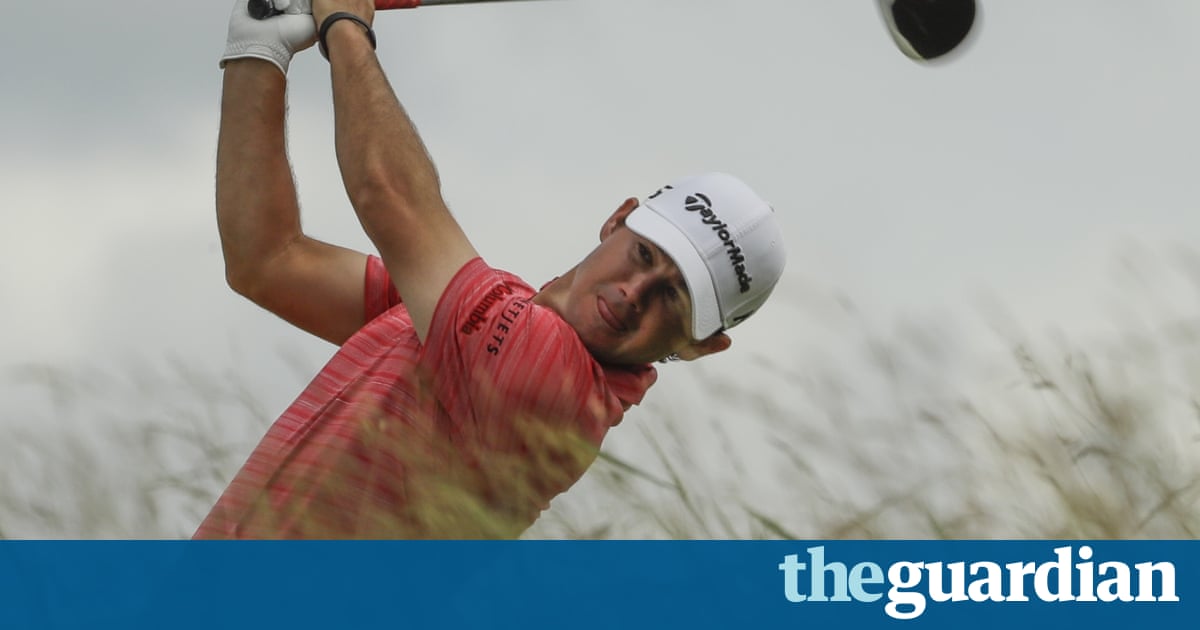 It took until this, the 117th staging of the US Open, for a player to post a round of nine under par in this championship. <a href="https://www.theguardian.com/sport/live/2017/jun/17/us-open-2017-third-round-live" data-link-name="in" body link" class="u-underline">Step forward Justin Thomas, who marched where even the greats of this sport failed by holing out from eight feet on Erin Hillss 18th green for an eagle. Unprecedented achievement had been sealed courtesy of a Thomas 63. Yet by close of play, he did not even lead the tournament.
Tommy Fleetwood threatened to set a record of his own, until a stumble at the very location where Thomas excelled. Fleetwood could have been only the second Englishman in 47 years to hold at least a share of the 54-hole lead in a US Open but blundered with a chip then putted over the 18th green when it seemed his hard work had been done. A dropped shot means Fleetwood, at 11 under, shares second with Thomas and Brooks Koepka.
As Fleetwood surprisingly wobbled and Thomas took plaudits, Brian Harman proved the merits of the quiet man. The world No50 heads the leaderboard at 12 under after a third round of 67. Harman has previous for this kind of thing; last month at the Wells Fargo Championship he prevented Dustin Johnson from winning a fourth tournament in a row.
Thomass 63 was remarkable given what might have been; he dropped shots on the 4th and 10th, before passing up a relatively simple eagle chance on the 15th. Not that he will care about that; Thomas has etched his name into golfing folklore, switching the narrative of a hitherto competitive but hardly dramatic US Open in the process.
Thomas has become just the 29th player to card 63 in a major; nobody has signed for lower. The 24-year-old from Louisville joins Johnny Miller, Jack Nicklaus, Tom Weiskopf and Vijay Singh as doing precisely that in the US Open. The total to par sets Thomas apart. I told my caddie walking towards the 18th green: Lets try to be a part of history, he said. It was obviously an awesome day. Id love to have another one of those.
Im not sure when its going to sink in or when Im going to realise what I did. I know one thing, if it happened tomorrow and the result is what I want it to be, then Id probably have a little different feeling. But Im just so excited to give myself a great chance to win this golf tournament.
Thomas produced a 59 at the Sony Open in January. Bare statistics might tell a different story but it is incredible to think that does not even register as his finest round of 2017. Thomas, in pursuit of his maiden major title, was inspired; the three-wood from 299 yards that set up that final putt an example of his mindset. Players with less fortitude would have played safe on the beastly par five, taking their chance of a birdie at best. Thomas, in garish pink trousers, showed he can walk the walk.
Out of high-profile struggles has come opportunity. The failure of Johnson, Rory McIlroy, Jason Day and others to survive for the weekend means the prospect of a first-time major winner here is strong. Only Louis Oosthuizen, Zach Johnson and Sergio Garca realistically have the prospect of another major win from here, with even that trios chances highly remote.
Those looking to end their major wait include Rickie Fowler, who is 10 under. Kim Si-woo, the recently crowned Players Champion, is at minus nine. Fleetwood is making a mockery of the suggestion his best major chance of 2017 will come at Royal Birkdale, a short stroll from his Southport home.
Paul Caseys triple bogey seven at the 3rd proved a blow from which he could not recover; the Englishman came perilously close to missing his ball in thigh-high greenside rough. Casey walked from the 18th green at four under after posting 75.
Patrick Reeds story looked like being the most notable of the day before Thomas, Harman and Fleetwood moved the needle. The Texans 65 propelled him from an earlier position of 33rd to the upper echelons of the leaderboard at eight under, thereby conjuring memories of the Ryder Cup brilliance that Reed has not consistently replicated in stroke play tournaments.
You always can take that fire from Ryder Cup and use it in other events, Reed said. But youre talking polar opposites. Youre talking one-on-one competition against 155 players. And because of that you can go out and play some great golf, but you have a bunch of guys out there that can play some good golf, as well.
Every time Ive been in majors so far, Ive put so much emphasis on them and tried so hard. This week Ive been working with my coach, just sitting there and thinking: All right, lets go out and try to make a good golf swing and try to make a good putt. And at the end of the day add them up and see how you do. It seems to be working pretty well.
This was Reeds day before Thomas raised the bar, Fleetwood refused to be intimidated aside from one aberration on his final hole and Harman flew under the radar.
A major regularly criticised for brutality was dangerously close to providing gripping entertainment. For more of the same can be ones only hope, greedy though that is.
Read more: https://www.theguardian.com/sport/2017/jun/17/justin-thomas-makes-us-open-history-as-tommy-fleetwood-falters-on-last