Justice department traces money from Malaysian economic development fund to real estate in Beverly Hills, $200m in artwork and The Wolf of Wall Street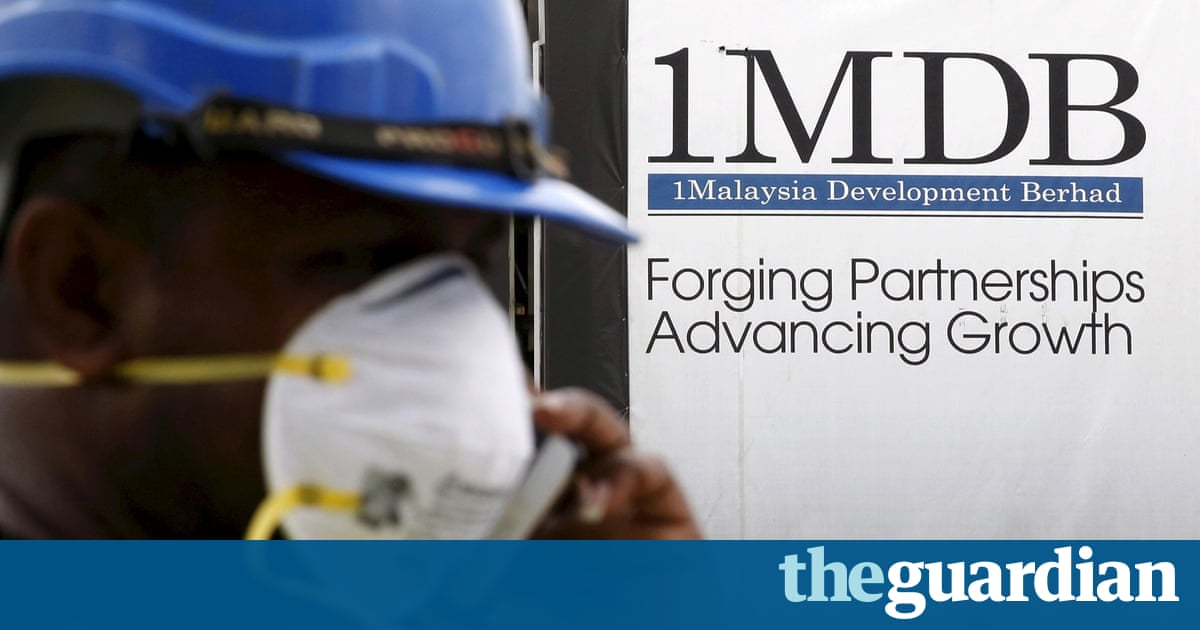 The US justice department has moved to seize more than $1bn of assets allegedly acquired using funds misappropriated from the Malaysian economic development fund 1MDB, according to court papers filed on Wednesday.
The news follows a months-long international FBI probe, as well as five separate investigations around the world, and mark a step up in the investigation into up to $6bn that was allegedly skimmed from the sovereign fund and allegedly used to support the lavish lifestyles of several men connected to the Malaysian prime minister, Najib Razak.
The US attorney general, Loretta Lynch, said the funds defrauded from the Malaysian people were used to pay for luxury real estate in the US and Europe, gambling expenses in Las Vegas casinos, a London interior designer, more than $200m in artwork by artists including Van Gogh and Monet, and the production of films including the Oscar-nominated The Wolf of Wall Street.
Unfortunately and tragically, a number of corrupt officials treated this public trust as a personal bank account, Lynch said at a news conference in Washington.
The seizures targeted by investigators include property, art drawings and a Claude Monet painting, a private jet and other assets purchased with money allegedly misappropriated from the fund.
The civil action and asset seizures represent the largest single action ever brought by the justice departments kleptocracy asset initiative, Lynch said.
The operation is being led by the initiative, which was set up in 2010, and will demonstrate Washingtons determination to curb the movement of illegal funds.
The Department of Justice will not allow the American financial system to be used as a conduit for corruption, Lynch said.
With this action, we are seeking to forfeit and recover funds that were intended to grow the Malaysian economy and support the Malaysian people. Instead, they were stolen, laundered through American financial institutions and used to enrich a few officials and their associates. Corrupt officials around the world should make no mistake that we will be relentless in our efforts to deny them the proceeds of their crimes.
The complaint, filed in California, alleges that funds diverted from 1MDB were used for the personal benefit of public officials and their relatives and associates.
The US attorney Eileen Decker said the case marked the justice departments determination to send a message that we will not allow the United States to become a playground for the corrupt, a platform for money laundering or a place to hide and invest stolen riches.
Among the assets the government is seeking are royalties from The Wolf of Wall Street, homes in Beverly Hills, a penthouse in the Time Warner building in Manhattan and a Vincent van Gogh drawing, according to the filing. They total more than $1bn, the justice department said in a statement.
Additionally, prosecutors in at least four countries Singapore, Switzerland, Luxembourg and the US are looking into money flows from the investment vehicle, formally called 1Malaysia Development Berhad, which was established for national development.
Among the questions asked by investigators is whether politically connected individuals in Kuala Lumpur benefited financially from the fund, whose advisory board was headed by Razak, the Malaysian prime minister.
The actions could also affect the USs relationship with Malaysia, as the investigations named figures including Riza Aziz, a film producer and stepson of the prime minister; Low Taek Jho often called Jho Low a young, high profile Malaysian financier; and Khadem al-Qubaisi, a former Abu Dhabi managing director of a sovereign-wealth fund.
Aziz runs the Hollywood production company Red Granite Pictures, which funded and produced the 2013 Leonardo DiCaprio hit The Wolf of Wall Street. In a letter to the Guardian earlier this year, the company denied there was anything improper in its dealings.
Liquidation begins
Figures allegedly connected to the 1MDB case have started liquidating assets. In February, Jho Low, 34, auctioned off artworks by Claude Monet, Pablo Picasso and Jean-Michel Basquiat at Sothebys, picking up steep losses on two of the pieces that were purchased from the auctioneer in 2013 and 2014.
All three works had been pledged as part of the collateral for a loan of about $100m from Sothebys Financial Services, Bloomberg reported.
Low, who has told newspapers that he provided informal consulting to 1MDB, has claimed he didnt break any laws and wasnt being investigated.
Over the past year, Low has kept a low profile a contrast to the heady days when he was known for throwing lavish parties with Paris Hilton and appearing on the red carpet with the singer Alicia Keys. Low is also reported to own stakes in hotels and a music publishing business.
Asset seizures will be the fruit of at least six global investigations into 1MDB. Investigators believe that as much as $6bn of the $13bn of debt raised by the fund went missing.
The 1MDB affair has stretched from Malaysia to Singapore, Abu Dhabi, Switzerland, the Caribbean, Hong Kong and the US. The suspected fraud occurred in three phases in which money was laundered through bank accounts in Singapore, Switzerland, Luxembourg and the US, the government said in the court filing.
In 2009, after 1MDB was set up to pursue development projects, officials of 1MDB and others, under the pretense of investing in a joint venture between 1MDB and a Saudi oil company, transferred more than $1bn to a Swiss bank account.
In 2012, 1MDB officials and others diverted proceeds raised through two separate bond offerings arranged by Goldman Sachs Group Inc, according to the justice department.
More than 40% of the proceeds, or $1.4bn, were transferred to a Swiss bank account belonging to a British Virgin Islands entity. More than $1bn was diverted from another bond offering arranged by Goldman Sachs in 2013.
Earlier this year, the companys south-east Asia chairman, Tim Leissner, took a leave of absence after questions were raised about the fund, and an unauthorized letter of reference to another bank on behalf of Jho Low that implied he had vetted Low and done business with him directly.
The Journal reported seeing bank transfer documents showing that hundreds of millions of dollars were diverted into the prime ministers own bank accounts in Malaysia ahead of key elections.
Razaks family has been entangled in various alleged links to 1MDB funds, alongside a separate donation scandal that has caused more than a year of political tension in Malaysia.
Razak and Malaysias attorney general have said the money in his bank accounts was a gift from the Saudi royal family and most was later returned. The 1MDB fund denies wrongdoing and says it is ready to cooperate with any investigation.
Critical questions still unanswered
How 1MDB funds reached the US has yet to be clarified. Investigators are looking into an Abu Dhabi business partner of 1MDB who may have moved the money through a British Virgin Islands company, which then sent it to a company owned and controlled by Aziz.
Aziz allegedly used some of the money to buy properties that are named in the US criminal complaint and may imminently be subject to seizure. They include a 7,700 sq ft, $33.5m duplex in the Park Laurel condominium tower overlooking New Yorks Central Park and an 11,000 sq ft walled mansion in Beverly Hills.
There has never been anything inappropriate about any of Red Granite Pictures or Riza Azizs business activities, a spokesman for Azizs film company told the Journal. What they have done and will continue to do is develop and produce successful and acclaimed movies that have generated more than $825m in worldwide box-office revenues.
Meanwhile, 1MDB has said it has never invested in or transferred funds to Red Granite Pictures, whether directly or via intermediaries. Any statement to the contrary is false.
Still, for a time, the young Malaysian investors lived large. Three months after shooting on The Wolf of Wall Street began, Red Granite gave a birthday gift to DiCaprio: the Oscar statuette given to Marlon Brando for best actor in On the Waterfront, which cost about $600,000.
On New Years Eve 2012, revellers celebrated the arrival of 2013 in Australia and then flew to Las Vegas on a rented jetliner in time to celebrate it again. The party was reported to have included the two Malaysians, Aziz and Low, DiCaprio and his Wolf of Wall Street co-star Jonah Hill, and the actor and singer Jamie Foxx.
Six months after the movies release, DiCaprio, Aziz and Low attended the World Cup in Brazil and spent time on a Saudi-owned, 482ft yacht.
The alleged scandal came to public notice last year, when the Sarawak Report, a UK-based site run by a former BBC journalist, published a series of what it said were internal emails between 1MDB and the Saudi energy company PetroSaudi.
The emails, the Sarawak Report said, showed that $700m involved in a deal between 1MDB and PetroSaudi was sent to a bank account belonging to a company controlled by Low.
The Guardian has been unable to contact Low regarding the allegations against him. He has consistently denied any wrongdoing, with his lawyers calling allegations that he benefited from the fund false, materially misleading and categorically denied.
Read more: https://www.theguardian.com/world/2016/jul/20/us-justice-department-1mdb-fund-seizure-fraud-investigation