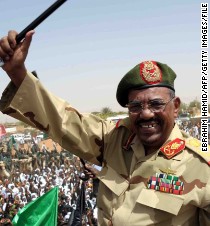 Washington (CNN)The State Department welcomed Sudan's efforts to counter ISIS and other terrorist groups Tuesday despite the fact that Sudan has been designated a state sponsor of terrorism for more than 20 years.
"The United States welcomes Sudan's recent efforts to increase counterterrorism cooperation with the United States," State Department spokesman John Kirby said in a statement.
<
ul class="cn" cn-list-hierarchical-xs cn–idx-4 cn-zoneadcontainer">
"Sudan has taken important steps to counter ISIL and other terrorist groups and has sought to prevent their movement into and through Sudan. Sudan's continued cooperation will bolster international efforts to combat terrorism in the broader region," Kirby added, using the government's preferred acronym for ISIS.
Kirby went on to say that the governments of the US and Sudan would cooperate "on counterterrorism to enhance the security of both our countries," adding that such cooperation would be "subject to and consistent with US law."
The State Department labeled Sudan a state sponsor of terrorism since 1993.
"Sudan was designated as a state sponsor of terrorism in 1993 due to concerns about support to international terrorist groups to include the Abu Nidal Organization, Palestine Islamic Jihad, Hamas, and Hezbollah," according to the department's 2015 report on terrorism, though the report notes that Sudan's support to those groups "appeared to have declined" in 2015.
The country also was home to Osama bin Laden and his followers from 1991 until 1996, with the department's terrorism report saying bin Laden was "provided safe haven in Sudan for five years until he was expelled by the Sudanese government in 1996."
While there, bin Laden is believed to have helped orchestrate several terror attacks. He was eventually expelled by the Sudanese government for his involvement with al Qaeda and subsequently relocated to Afghanistan.
Sudan is one of only three countries to be designated a state sponsor of terrorism, with the other two being Syria and Iran.
When asked about the apparent contradiction, Kirby issued a statement to CNN, saying, "We engage bilaterally in a number of areas and cooperation in these areas will help us normalize ties."
But, he added, "Complete normalization of relations would require significant progress in a range of other areas, including an end to the fighting in Darfur and the Two Areas."
The latter designation refers to the South Kordofan and Blue Nile states of Sudan which, along with Darfur, have been the site of violent armed conflict between the government in Khartoum and opposition groups over the past several years.
The International Criminal Court issued warrants for the arrest of Sudan's long-serving President Omar al Bashir in 2009 and 2010 for "crimes against humanity" and "war crimes" pertaining to his actions during the conflict in Darfur.
"As we've consistently said, we would initiate the process of rescinding Sudan's designation as a state sponsor of terrorism only if the government of Sudan met all the criteria," Kirby said.
According to Kirby, these steps included the "certification that the government of Sudan has not provided support to international terrorism in the preceding six-month period and that the government has provided assurances that it will not support acts of international terrorism in the future," noting that the "process has not been initiated."
"We have been quite clear with the Sudanese on the steps that need to be taken," he added.
Read more: http://www.cnn.com/2016/09/20/politics/sudan-counter-terrorism-state-department/index.html