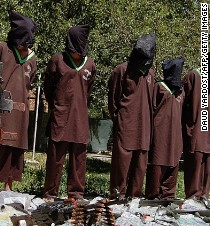 Washington (CNN)The United States won't pay $300 million in military reimbursements to Pakistan after the Pentagon determined the country was not taking sufficient action against a US-designated terror group.
"The funds could not be released to the government of Pakistan at this time because the Secretary has not yet certified that Pakistan has taken sufficient action against the Haqqani network," Pentagon spokesman Adam Stump said in a statement, referring to Defense Secretary Ash Carter.
At issue are monies from the Coalition Support Fund (CSF) that the United States provides to countries to offset the costs they encounter for supporting counterterrorism operations. Pakistan has been the largest recipient of that aid.
<
ul class="cn" cn-list-hierarchical-xs cn–idx-4 cn-zoneadcontainer">
Pakistan has received roughly $14 billion in reimbursements from the fund since 2002, according to the Defense Department.
"This decision does not reduce the significance of the sacrifices that the Pakistani military has undertaken over the last two years," Stump said, while adding the Pentagon continues to be "encouraged" by the actions of the Pakistani military in the country's tribal regions.
The story was first reported by Reuters.
The Pentagon also provides funds under the program to Croatia, Georgia, Hungary, Jordan, Poland and Romania for their involvement in operations in Afghanistan as well as the fight against ISIS.
In response to the development, the Pakistani Embassy to the United States maintained that the CSF has led to improved security inside Pakistan in recent years.
"Over the past decade, Pakistan has conducted a large number of military operations that have sequentially dismantled and destroyed terrorist infrastructure on its side of the international border with Afghanistan," an embassy spokesman said in a written statement.
The statement added that Pakistan would "continue to work with its partners in the long-term effort" to ensure stability in those areas.
The Haqqani network, which has been linked with the Taliban and al Qaeda, is based in Waziristan, a tribal area of Pakistan, but also operates across the border in Afghanistan. It was formally designated a terrorist organization by the United States in 2012.
The $300 million sum was the remaining figure designated for Pakistan out of Congress' 2015 fiscal year authorization of $1 billion to the country under the CSF program.
Pakistan has been designated to receive $900 million in CSF funds for the 2016 fiscal year, of which $350 million will be subject to certification from the defense secretary that Pakistan is taking sufficient action against the Haqqani network.
Relations between the United States and Pakistan have been somewhat strained following the 2011 Navy SEAL raid that resulted in the death of Osama bin Laden and a US airstrike in May that killed Taliban leader Mullah Akhtar Mansour in southern Pakistan.
Read more: http://www.cnn.com/2016/08/04/politics/us-holds-back-some-military-aid-for-pakistan/index.html