Opposition grows to visit by Franklin Graham, who is accused of hate speech for remarks about Islam and gay people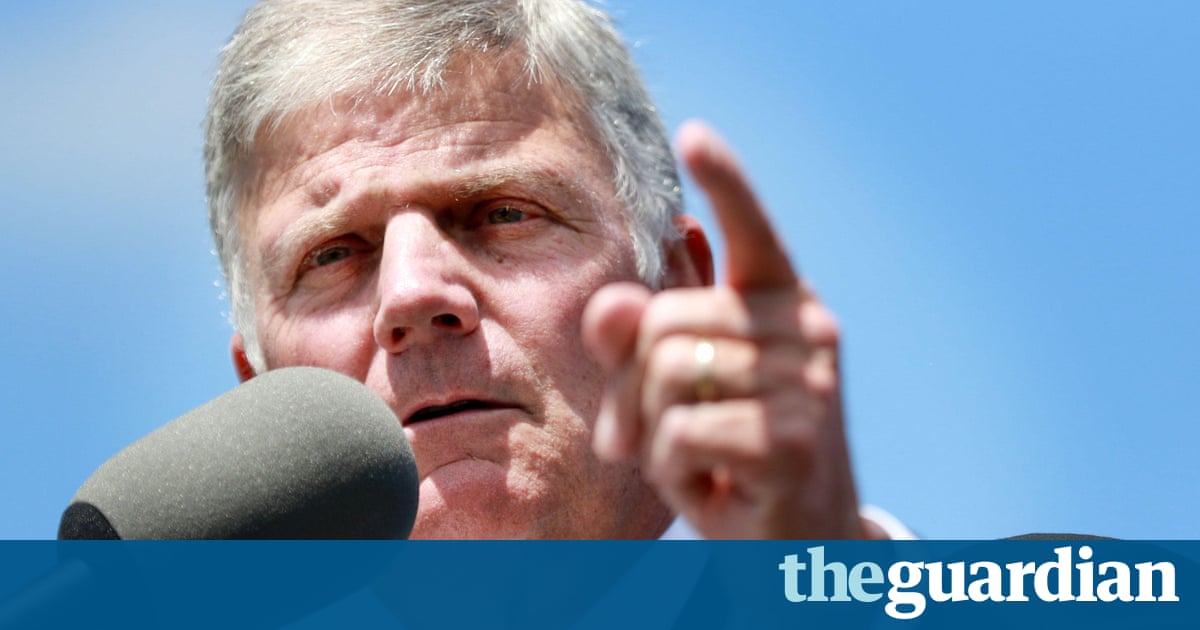 Opposition is mounting to a planned visit to the UK by a leading American conservative evangelical Christian who has made Islamophobic and anti-gay statements, with critics saying it will promote prejudice and damage interfaith relations.
Several MPs, including a government minister, have urged the home secretary to consider refusing UK entry to Franklin Graham, with some suggesting his comments contravene British laws on hate speech. A petition against Graham being granted a visa has gathered more than 4,600 signatures.
Nina Parker, the pastor of Liberty church in Blackpool and the organiser of the petition, said: As a Christian and as a leader of a church that particularly welcomes LGBT people, Im horrified that other local churches are inviting someone with this record of hate speech.
She said Grahams visit had triggered an enormous amount of protest from Christians in the north-west of England, and his presence would be extremely destructive in the area.
Graham, 65, the son of the evangelical preacher Billy Graham, is to be the main speaker at the Lancashire festival of hope at Blackpools Winter Gardens in September 2018.
The evangelist, who backed Donald Trump in last years US presidential election, has described Islam as an evil and very wicked religion and has equated the actions of extremist groups such as Isis with the faith.
He claimed that Barack Obama was born a Muslim and had allowed the Muslim Brotherhood to infiltrate the US government at the highest levels during his presidency. He also said the Obama administration was pushing a gay and lesbian agenda, and he has spoken out against LGBT rights, saying Satan is behind same-sex marriage.
Paul Maynard, a minister at the Department of Transport and a Blackpool MP, has written to Amber Rudd urging caution over Grahams visit to the UK.
Gordon Marsden, another Blackpool MP who has called on the home secretary to consider refusing Graham entry, said the evangelist may have broken UK legislation on hate speech.
I think frankly the evidence is piling up that his visit to the UK would not be a good thing and not probably in my view a very Christian thing. Grahams statements were incompatible with what Jesus said in the Bible, he told BBC Radio Lancashire.
Afzal Khan, the Labour MP for Manchester Gorton, said he was concerned about the prospect of Graham sowing division in the UK. His views are not welcome, and I will make representation to the home secretary if it looks like he is intent on coming, he told the Guardian.
Last year, Graham said Trumps election victory was the result of divine intervention. I could sense going across the country that God was going to do something this year. And I believe that at this election, God showed up, he told the Washington Post.
According to his biography on the website of Samaritans Purse, an international charity which pays him an annual salary of $620,000 for his role as chief executive, Graham has led crusades around the world. He was raised in a log home in the Appalachian mountains [and] now lives in the mountains of Boone, North Carolina, it adds.
The Blackpool festival organised by the Billy Graham Evangelical Association (BGEA), of which Franklin Graham is president and CEO is being supported by a number of Anglican clergy and churches in the Blackpool area. Those contacted by the Guardian either did not respond to a request for comment or declined to comment.
Two opponents of Grahams visit, the Blackpool vicars Andrew Sage and Tracy Charnock, have written an open letter to the bishop of Blackburn, Julian Henderson, calling on him to distance himself from the US evangelist. They say they are nervous about the damage the proposed visit will do to interfaith relations.
We cannot stay silent in the face of such dangerous and outspoken prejudice, they write, suggesting that the bishops silence on the matter can only be seen as support.
Sage told the Guardian that when he discovered Grahams comments about Muslims and LGBT people I became rather angry, which is unlike me. I have good relations with Muslims and gay people in my parish, and everyone is welcome at the church where Im the parish priest. This [invitation to Graham] is not in my name, and Id like the bishop to distance himself from it.
Henderson told the Guardian he had no comment to make to the press but would be writing to Sage in the near future.
In a statement, the Blackpool councillor Maria Kirkland said the council had been made aware of a number of alleged comments and opinions on topics including gender, sexuality, race and immigration by Graham.
The councils position on these matters is robust and clear. We want to tackle discrimination, promote equality and increase respect and understanding between people regardless of their race, religion or sexual orientation or any such matter that can be subject to prejudice in our society.
She added: If matters are brought to our attention that could constitute incitement to hatred, we will forward these to the relevant public authorities and should this be proved we will not hesitate to terminate this booking.
Invited to comment on concerns raised about Grahams statements on Islam and LGBT issues, a BGEA spokesperson said the association was working in partnership with local churches on next years event. It will be a positive and encouraging event with music and also a message from Franklin Graham about the hope that can be found through a relationship with Jesus Christ.
Read more: https://www.theguardian.com/uk-news/2017/dec/07/us-evangelical-preacher-franklin-graham-uk-critics