In the wake of Times Up and #MeToo, women striding forward are still routinely tripped up by those for whom these movements are just another ding on their phone, says Eva Wiseman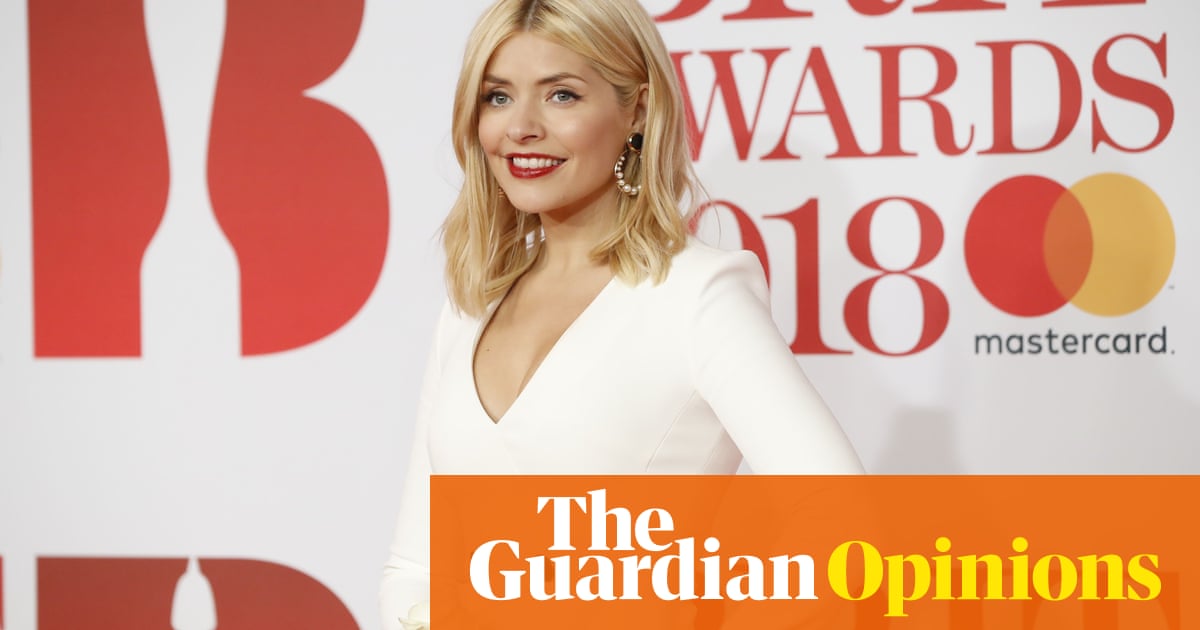 Holly Willoughby went to the Brit awards. At the beginning of the night we held white roses and walked down a red carpet full of the hope and pride that comes with the #timesup campaign, she captioned a post on Instagram. It was a collage featuring photos of herself, Abbey Clancy, Louise Redknapp and Rita Ora as they got into their taxis to go home. Theyre not great photos, Ill be honest. Their faces are gleaming with the paparazzis flash, their eyes are looking away or half closed, their bodies are at awkward angles, their bare legs abstracted by the crop of the car doors. At the end of the night, Willoughby added, cameras were held low to get a photo up our skirts times apparently up on #timesup.
Were in quite an odd place at the moment, arent we? A bit weird. Slightly sort of medicated feeling, that sleeping pilled detachment from what once felt like real life. Were floating between two shores. Because this Willoughby moment has been happening in various iterations ever since the campaign began.
After Weinstein was exposed, Kevin Spacey was accused of making unwelcome sexual advances towards a 14-year-old, and then of sexual assault. He denies the allegations, but Ridley Scott still decided to erase him from his finished film All The Money in the World. This meant reshoots for co-stars Michelle Williams and Mark Wahlberg, while Scott replaced Spacey with Christopher Plummer. I said Id be wherever they needed me, whenever they needed me, Williams said. And they could have my salary, they could have my holiday, whatever they wanted. Because I appreciated so much that they were making this massive effort. She was paid $80 a day. Wahlberg, it emerged (though he donated it to the Times Up fund later) had negotiated for $1.5m. So there was that. A big clanking reminder that, for all the cute chatter, the bones of our society dont bend.
It even resonated in last weeks muted scandal about Jennifer Lawrences dress. A year ago, the photo of Lawrence in a split-to-the-thigh dress, standing on a balcony beside her male co-stars in their winter coats, wouldnt have been given a second glance. But today it was held up as an illustration of Hollywoods gender inequality. Which led to a Facebook post from Lawrence herself: This is sexist, this is ridiculous, this is not feminism. Overreacting about everything someone says or does, creating controversy over silly innocuous things such as what I choose to wear or not wear, is not moving us forward. Its creating silly distractions from real issues. And while there is, of course, a conversation to be had about the parameters of choice (there is always a conversation to be had, please dont get me going), the whole episode felt a little bizarre.
We are in a kind of feminist limbo, a place of change, where women striding forward are routinely tripped up by those for whom the Times Up or Me Too movements, at best, are just another ding on their phone the same sound it makes when the eggtimer goes, or when they receive a WhatsApp notification from their auntie and at worst an opportunity for profit. And the Lawrence episode revealed a similar disconnect, even for those engaged with it. A scrabbling for meaning, a panic.
This week, Monica Lewinsky published an essay in Vanity Fair, reflecting on the effect #MeToo has had on her, and reframing her year of shame from this distance. Which made me realise that this is something thats not unique to Lewinsky a similar reframing is happening for many women as they look back at their experiences through this new, clean lens. But inevitably that adds to a current feeling of instability and oddness what is true? What is real?
I keep returning to those Brit awards photos, and the familiar blankness of uplit women trying to keep their knees together as they slide into taxis home. Its not too much of a stretch to liken upskirt shots to the now familiar headlines about female politicians wardrobes, or newsreaders cleavages, or commentary that diverts attention from what a woman is saying, or reduces her to a thing.
The upskirt photo (which currently in the UK is only a crime in Scotland) is probably the most explicit reminder of the layers of horror a woman encounters in public life, and the dissonance between her identity and her tabloid worth. When theyre taken today, up the skirts of women full of the hope and pride that comes with the #timesup campaign, they carry a particular sting, a gasping moment to contemplate the transitory no mans land in which weve found ourselves, this creaking lift between two floors.
Email Eva at e.wiseman@observer.co.uk or follow her on Twitter @EvaWiseman
Read more: https://www.theguardian.com/lifeandstyle/2018/mar/04/upskirt-photos-at-the-brits-show-were-living-in-a-feminist-limbo