With their dark music, inscrutable cool and painful authenticity, the Manchester band have inspired a generation of rappers pushing the boundaries of hip-hop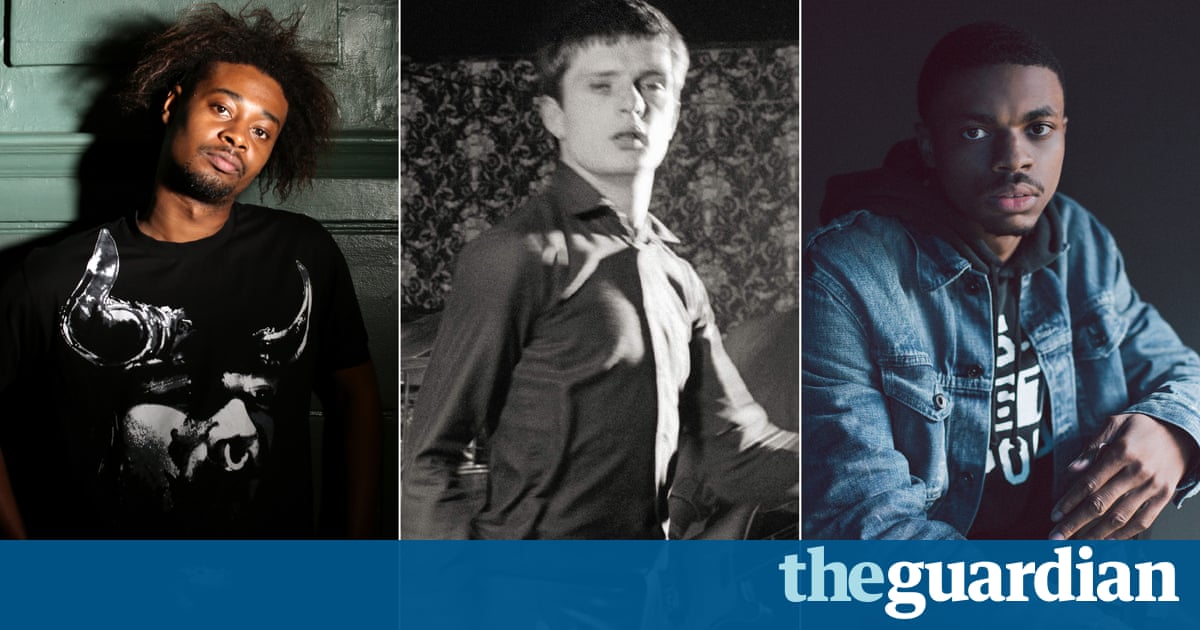 If rappers are the new rock stars perhaps its because so many of them seem to be cognizant of the old ones. On Tuesday, Danny Brown, one of raps most interesting voices, released his new album, Atrocity Exhibition, named after a Joy Division song (itself named after the book by JG Ballard). Brown has a longstanding relationship with the band. In a 2013 Guardian interview, he cited Ian Curtis as an influence, and the band have informed his music since 2011s album XXX.
Brown told Rolling Stone that he named the album Atrocity Exhibition because he identified with Curtiss pain in the song the authenticity of which received terrible confirmation when the singer hanged himself in 1980, aged 23. I just relate to that song a lot, he said. That song, [Ian Curtis is] pretty much talking about how he feels like hes part of a freak show almost. People just wanna come see him and they just wanna see him be a certain type of way. I totally relate to that.
Though Joy Division and Danny Brown or even post-punk and rap may seem to exist on opposite ends of the spectrum, there is definitely an emotional through line that links the two. The bands influence has added a dark tint to the sounds and aesthetics of two generations of backpack and avant garde rappers. Tyler, the Creator, who once called Odd Future the new Sex Pistols, rapped that he was a modern-day Ian Curtis on Leather Head. Earl Sweatshirt played Decades on a keyboard during his interview last year. Memphis rapper Cities Aviv referred to Curtis death on his mixtape Black Pleasure. Lupe Fiasco paid tribute to Joy Division with his band Japanese Cartoon. Kanye West asked designer Peter Saville, who created Joy Divisions iconic record sleeves, to design his logo. Vince Staples has said that Joy Divisions Unknown Pleasures inspired his debut album, Summertime 06. (They were all following in the footsteps of Grace Jones, who released a scarifying reggae cover of Shes Lost Control in 1980.)
In an interview with RBMA, Staples touched on why so many rap artists respond to Joy Division. BB King and Ian Curtis sing about the same things, he said. Its all life. In hip-hop, specifically, everything is sectioned off Why are we still trying to limit ourselves? Rappers attempting to push the boundaries of hip-hop have often attempted to incorporate kinds of music traditionally circumscribed by the genre. As for the lyrics, the themes of many Joy Division songs failure, crisis, loss and depression are as relatable to rappers as they are to anyone else.
It goes without saying that Joy Division are far from the only white rock band to have inspired current rappers. OG Maco, whose breakout hit, U Guessed It, went viral in 2014, recently released an EP called Blvk Phil Collins, a nod to the Genesis frontman. Aesop Rock has long cited folk rockers the Mountain Goats and singer-songwriter John Darnielle as one of his primary inspirations for his densely packed lyrics. Lil B once released a song featuring Elliott Smith, while Mac Millers producer alter ego Larry Fisherman later covered Angeles. Rappers often see their own reflections in the most unlikely places.
During his 2014 Lollapalooza set, Vic Mensa covered the White Stripes Seven Nation Army, invoking the band as a means to rile the crowd up. Azealia Banks has long been an Interpol fanatic. She covered Slow Hands early in her career, and later said it was a dream of hers to be in the band. Lil Uzi Vert, a rapper the Fader called the first rock star of post-Obama rap, has been vocal about his Marilyn Manson fandom. Listen here, at age 27 I will leave this Earth for this man right here, Uzi said of Manson in a Nardwuar interview. Hes the Pale Emperor. Some connections make more sense than others. Its easy to trace Coldplays influence on Atlanta bubblegum pop rapper Lil Yachty (who once said his favorite album of all-time is Ghost Stories), whose sugary synth confections often evoke a strawberry swing.
Of course rappers are inspiring rockers, too. Earlier this year, Young Thug wrote a song called Rocket Man (whose title later changed to Elton and again to Kanye West on his mixtape JEFFERY) as a tribute to Elton John. John, in turn, said he was a fan of Thugs: I heard a track on Beats 1 and I loved it so much. Iggy Pop also recently <a href="http://www.dazeddigital.com/music/article/33092/1/iggy-pop-says-hes-not-into-popular-edm-likes-young-thug" data-link-name="in" body link" class="u-underline">co-signed the Atlanta rapper. With his flamboyance, rebelliousness and gender fluidity, in his own way, Young Thug carries on the legacies of both Iggy and Elton. The rappers and the punks and the glam rockers arent really all that different. As genres continue to blur and artists become increasingly harder to categorize, perhaps we should be less surprised that they often understand each other.
Read more: https://www.theguardian.com/music/2016/sep/29/joy-division-rap-danny-brown-odd-future-vince-staples