<figure class="media-landscape" has-caption full-width lead">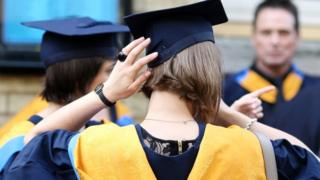 Image copyright PA

Image caption The proportion of first-class degrees has more than trebled since the 1990s
The proportion of top degree grades being awarded by UK universities has soared – with some universities giving first-class degrees to more than a third of their students.
The University of Surrey awarded a first-class degree to 41% of students last year, more than doubling the proportion five years ago.
And firsts awarded at the University of East Anglia have almost trebled to 37%.
Professor of education Alan Smithers called it "chronic grade inflation".
Among the prestigious Russell Group of universities more than a quarter of students received a first-class degree.
<div id="bbccom_mpu_1_2_3″ class="bbccom_slot" mpu-ad" aria-hidden="true">