<figure class="media-landscape" no-caption full-width lead">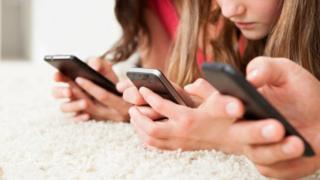 Image copyright Thinkstock
Half of children aged 11 and 12 have a social media profile, despite most platforms' minimum age being 13, a study from regulator Ofcom suggests.
Children's charity the NSPCC called on the government to act on the issue of under-age profiles.
The media watchdog also said children were increasingly getting their news from social media, but most were aware of the concept of fake news.
Just 32% believed that news accessed on such platforms was reported truthfully.
Ofcom's Children and Parents Media Use and Attitudes report found that 46% of 11-year-olds, 51% of 12-year-olds and 28% of 10-year-olds now have a social media profile.
<div id="bbccom_mpu_1_2_3″ class="bbccom_slot" mpu-ad" aria-hidden="true">