<figure class="media-landscape" has-caption full-width lead">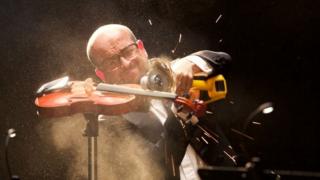 Image caption Matthew Herbert destroyed some instruments on BBC Radio 3's Between the Ears
A musician who wants to tour Europe to heal the "huge divisions" caused by Brexit has been given a grant by the UK Department for International Trade.
Matthew Herbert said he wanted to correct the impression created by Leave campaigners that the UK was "retreating into an absurd little enclave".
He said he wanted to get the message out: "We are still listening, we want to be friends, we want to collaborate."
Herbert has also set Article 50 to music and plans Brexit-themed concerts.
The experimental musician, who also gets funding from the British Council, is one of 12 artists sharing £181,944 grant money from the department headed by Liam Fox, who was one of the key campaigners for a Leave vote in the UK's 2016 EU referendum.
<div id="bbccom_mpu_1_2_3″ class="bbccom_slot" mpu-ad" aria-hidden="true">