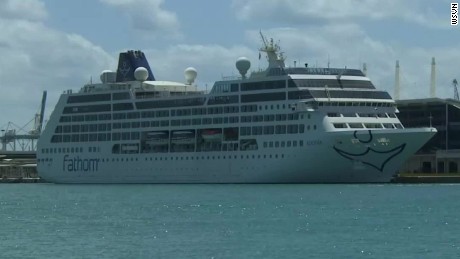 Miami (CNN)The first U.S. cruise ship bound for Cuba in decades set sail Sunday as salsa music played and protesters picketed nearby.
Standing beside a Cuban flag and an American flag, the cruise manager touted the journey as "the beginning of a new era."
<
ul class="cn" cn-list-hierarchical-xs cn–idx-4 cn-zoneadcontainer">
Passengers hold up Cuban and American flags as the first cruise in decades pulls away from Miami's shore
But not everyone was happy about the new route.
A small group of protesters gathered outside the port Sunday. And as the cruise ship was getting ready to leave Miami, police descended upon a nearby boat labeled "Democracia," where demonstrators held a blue sign that said, "Castro why do you ask Cubans for a Visa to visit their own country?"
Miami police descend upon a protest boat labeled "Democracia" with a blue sign that says "Castro why do you ask Cubans for a Visa to visit their own country?"
The demonstrators didn't stop the cruise ship from pulling out of the port.
Putting politics behind as ship heads toward Havana
About 700 passengers are aboard the ship, operated by Carnival Corp.'s Fathom cruise line.
Some of those passengers said they don't want politics to interfere with the historic occasion.
As she waited to board, Pam Carlson said she wanted to put politics behind and travel to Cuba for the people.
"My grandmother went way back in the day, before it was ever closed, so just to be able to go there and meet the people and see the people, it will be meaningful to us," she said.
Gary Carlson said to him, the controversy surrounding the cruise doesn't add up.
"I'm not sure I really understand, because it's time to put those things behind us," he said. "Really the big issue is government to government, not people to people, and that's what we're excited about participating in."
The seven-day cruise is scheduled to stop in three cities: Havana, Cienfuegos and Santiago de Cuba.
Scheduled activities on board highlight Cuban culture.
Garcia Baxe, 49, is a dance instructor on Fathom Cruise's first trip to Cuba from Miami. Born in Angola, Baxe will teach salsa and cumbia to passengers headed to Cumbia so they can "integrate into Cuban culture better" during their trip.
Even before the boat left Miami, a salsa band serenaded passengers on deck.
Salsa bands sing to passengers aboard the first trip to Cuba from Miami in decades #cuba
Cruise almost didn't happen
The historic voyage — the first U.S. cruise bound for Cuba in more than 50 years — almost didn't happen as scheduled.
Last month, controversy erupted over a Cuban law that prevented Cuban-born passengers from coming to the island on boats. The law stopped Fathom owner Carnival Corp. from selling tickets to Cuban passengers.
Cruise officials say six of the passengers on this week's cruise are Cuban.
Beatriz Melendez is one of them.
The 52-year-old was 4 when she left Cuba with her sister and parents. Now, she and her sister are taking the cruise to Cuba together.
As the cruise ship left the port in Miami, the sisters spotted a rainbow spanning the bright blue sky — a sign that the spirit of their parents is with them, Melendez said, as they begin their journey back home.
Read more: http://www.cnn.com/2016/05/01/travel/us-cuba-cruise/index.html