<figure class="media-landscape" has-caption full-width lead">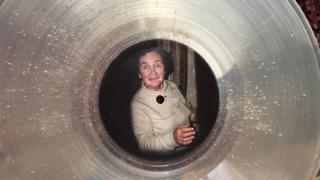 Image copyright And Vinyly

Image caption There is about a teaspoonful of Madge Hobson's ashes in her record
John Hobson is listening to a recording of conversations with his late mother, mostly small talk about family.
The words are on a vinyl record, although this is more than a recording of memories.
The ashes of Madge Hobson are combined with the vinyl, with a photograph and details of her life printed on the labels.
"It makes the perfect family record, which can be passed down the generations," says Jason Leach, 46, the founder of And Vinyly, which produced the disc.
The firm is part of a fast-growing sector of the end-of-life industry. No longer need ashes be stored in an urn or scattered to the wind. Now you can wear, drink from, or display a little part of what is left of your loved one.
<div id="bbccom_mpu_1_2_3″ class="bbccom_slot" mpu-ad" aria-hidden="true">