About 20 men beat up fans of the group outside the Velvet Indieground record store, apparently angry at them enjoying music and alcohol during Ramadan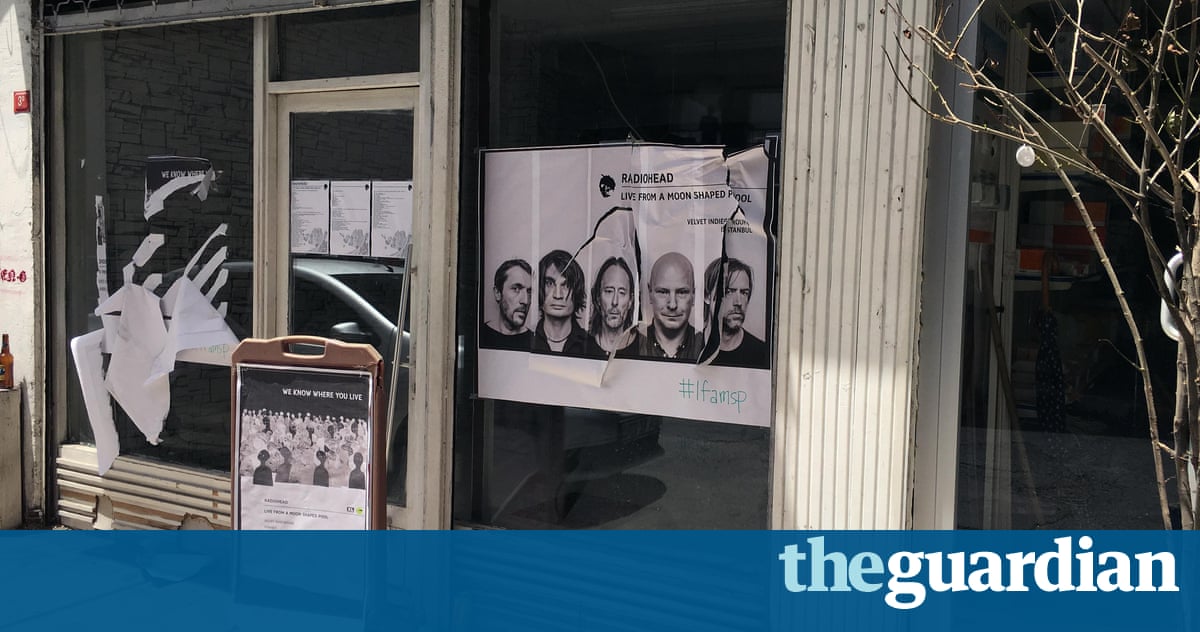 A group of Radiohead fans has been attacked by a mob of men carrying sticks and bottles as they held a listening party of the bands music in Istanbul.
The incident, which was largely captured on video, occurred on Friday night at the Velvet Indieground record store a popular destination for Turkish and foreign music fans in the Istanbul district of Cihangir. There was at least one injury, with a picture of a person with a bloodied shirt, purportedly from the attack, posted on Twitter.
The video shows a visibly angry man storming into the record store as employees and customers listen to Radioheads new album, A Moon Shaped Pool. Most of the people in the store hastily leave. A waiting mob then reportedly attacked the group and the door of the record store was smashed, although there were no reported serious injuries from the assault.
Velvet Indieground staff said the altercation was caused by a group of about 20 men who were unhappy that the store was playing music and handing out alcohol during the holy month of Ramadan, during which Muslims are expected to fast during the day. Although alcohol is generally considered forbidden by Islam, only a few countries ban it and drinking is largely tolerated in much of the Middle East.
A Reddit post from someone claiming to be one of the hosts of the listening party said that the group was determined to kill us.
We were beaten by more than 20 men with pipes in their hands, beer bottles were broken on our heads, I dont even know how we made it out, the post read, before adding a later update that everyone escaped serious injury.
For the first time in my life, I was scared of being killed. Cant even think right now, just a blank stare at the walls. Weird Fishes is my favorite song in the world, and I was dancing to it outside when it all started. Now it has so much more meaning for me.