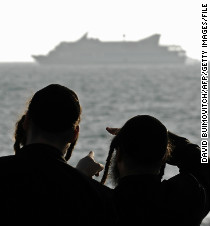 (CNN)A Turkish court has dismissed the case against four Israeli military officers accused of killing 10 activists aboard a humanitarian aid flotilla, Turkey's state news agency Anadolu, reported.
The prosecutor cited an Israeli-Turkish agreement in asking for the case to be dropped, Anadolu reported.
<
ul class="cn" cn-list-hierarchical-xs cn–idx-4 cn-zoneadcontainer">
The nations have recently restored relations after a six-year split caused by the May 31, 2010, Israeli raid on the Mavi Marmara, which was carrying supplies to Gaza. The Palestinian territory is struggling under a crippling military and economic siege.
The raid left eight Turks and an American citizen of Turkish origin dead. A tenth victim succumbed to his wounds in 2014 after being in a coma for years,
state media TRT world reported.
Israeli Prime Minister Benjamin Netanyahu
apologized for the raid
in 2013, acknowledging that "operational mistakes" were made.
Israel paid $20 million in compensation to the families of the Turkish nationals killed in the raid. In return, Turkey ended all criminal and civil claims against Israel and its military personnel.
Israel long has voiced concerns about arms smuggling to Gaza militants. Gaza is controlled by Hamas, an anti-Israel group regarded as a terrorist organization by the United States and Israel.
The blockade on Gaza remains. But Turkey, which had initially demanded that it be lifted, will be able to deliver humanitarian supplies through the port of Ashdod in Israel.
Eitan Naeh, who served as a secretary at the embassy in Ankara back in 1993, was appointed ambassador by the Israeli foreign ministry last month. Turkey reciprocated a day later, appointing Kemal Okem as ambassador to Israel.