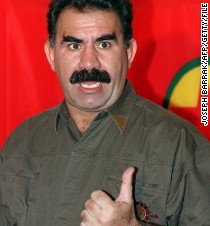 (CNN)The jailed leader of a Kurdish militant group will be allowed a visit from a family member during a Muslim holiday next week, the state-run Anadolu Agency said Saturday, quoting a security official.
Abdullah Ocalan
, the imprisoned leader of the Kurdistan Workers' Party, or the PKK, can see his brother, Mehmet, during the Muslim feast of
Eid al-Adha,
according to the official, who spoke on the condition of anonymity because of restrictions on speaking with media outlets. The holiday, which begins Monday, is known in Turkey as
Kurban Bayrami
.
<
ul class="cn" cn-list-hierarchical-xs cn–idx-4 cn-zoneadcontainer">
The time and date of the visit were not disclosed, Anadolu said.
Ocalan is founder of the
PKK
, a separatist group that Turkey, the United States and European Union regard as a terrorist organization.
Tens of thousands have died in a bloody insurgency the PKK has waged in Turkey since 1984. The group's initial goal was to establish an independent Kurdish state, but it later demanded autonomy within Turkey.
A ceasefire between Turkey and the PKK ended last year. Anadolu noted the group resumed its attacks against Turkey last summer.
The government has been battling the PKK in southeastern Turkey and has fought the group in Iraq. It has also targeted Syrian Kurdish fighters it regards as offshoots of the PKK. Many
Kurds
live in Iraq, Turkey, Iran and Syria, but they do not have their own country.
Imprisoned for years
Ocalan was jailed in 1999 for forming an armed organization after a death sentence was commuted to life imprisonment, Anadolu said. He is being held on an island in the Sea of Marmara.
The Kurdistan 24 news outlet
said "his family members have not seen him since October 2014" and "the last time his lawyers were granted a meeting was in 2011." But members of Turkey's pro-Kurdish Peoples' Democratic Party, or HDP, met with him, Kurdistan 24 reported.
In July, HDP co-chair Selahattin Demirtas raised questions about Ocalan's safety "after claims a group of rogue Turkish soldiers wanted to kidnap or assassinate the PKK leader in his prison cell. The incident was thought to have occurred on the night of the
failed July 15 coup attempt
," Kurdistan 24 said.
Activists in Diyarbakir, a Turkish city of with a large Kurdish presence, embarked on a hunger strike "to protest the lack of information" about Ocalan's safety, the Kurdish news outlet said.
Read more: http://www.cnn.com/2016/09/10/europe/turkey-ocalan-visit/index.html