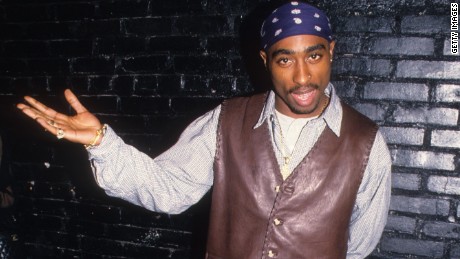 (CNN)It is easy to forget that Tupac Shakur's career only lasted five years.
The rapper released his first studio album "2Pacalypse Now" in November 1991. By September 13, 1996, he was
dead
. Shakur was just 25 when he was gunned down on a Las Vegas street and succumbed to his injuries days later.
<
ul class="cn" cn-list-hierarchical-xs cn–idx-4 cn-zoneadcontainer">
Within those five years, Shakur was in the studio recording the trove of music he left behind. He had roles in films like "Poetic Justice" and "Above the Rim." And as Shakur's fame grew, so did his controversial reputation.
Twenty years after his death, there continues to be a fascination with Shakur. With his artistry cut short, some wonder if the rapper was on the verge of reaching his full potential just as he was killed — writing about #BlackLivesMatter decades before its time.
"Street poet"
Writer Kevin Powell covered Shakur extensively. In 1995, Powell conducted the now famous Rikers Island interview with Shakur where the rapper was imprisoned after being accused of rape (he was found guilty of sexual abuse and served eight months).
Powell said in death, Tupac is now an even bigger star.
"When you are in the middle of it, you are not thinking global, iconic figure on the level of a Bob Marley, a Nina Simone, the Beatles or Elvis," Powell told CNN. "I'm talking not just hip hop but globally. I have traveled all over this country and around the world and everywhere I have gone, his name comes up in some form or fashion."
"Pac was a street poet and he spoke for the people in the hood," Powell said. "He was constantly pushing the limits of what an artist could do in the tradition of a Marvin Gaye, Bob Dylan and Nina Simone."
"Here on earth / tell me what's a Black life worth"
Last year,
Ebony magazine
ran a collection of Shakur quotes and poems under the headline: "Tell Me What's A Black Life Worth: 2Pac on #BlackLivesMatter." (The article was tied to a Grammy Museum exhibit titled "All Eyez On Me: The Writings of Tupac Shakur.")
"It was always my belief that cops are just a gang unto themselves with the good and the bad," the rapper said during an interview about playing a cop in the 1997 film "Gang Related," which was released posthumously. "Just like I believe the gang bangers in the street got good and bad like police officers do."
Powell said he absolutely believes that "Pac would have grown into someone who would have talked about race, gender and various forms of discrimination."
"I think he would have been a leader in various ways and grown into what Harry Belafonte became, what Paul Robeson became and what Bono of U2 has become," Powell said. "They understood that they have this gigantic platform as artists and entertainers and they wanted to use it for social good."
"JFK and Elvis rolled into one"
Beyond being an actor and wildly successful hip hop artist, Shakur was well known for his encounters with the law.
Director Mike Dorsey teamed up with former Los Angeles Police detective Greg Kading for the documentary "Murder Rap: Inside the Biggie and Tupac Murders." (The rappers were murdered within six months of each other.)
"Tupac had so much more ahead of him in his life, he had so much potential that there was kind of a James Dean aspect to his life," Dorsey said. "We never really got to see his full potential and I think all those aspects merged to create the perfect storm which has helped to keep this story alive."
There are plenty of conspiracy theorists who don't believe that Shakur is dead.
Since his shooting, there have been whisperings that Shakur faked his own death after he was hospitalized.
Recently, a video has been circulating on social media which claims to "prove" Shakur is alive. Fans have continued to share the video despite it being debunked.
Some have even claimed that photos of actor Demetrius Shipp, Jr., who portrays the slain rapper in the upcoming film "All Eyez on Me," are actually Shakur.
Kading said he's heard countless theories — including one about a government conspiracy connected to Shakur's death.
"That's salacious to the audience and they want to think there is much more to the story [of Shakur's death]," Kading said. "And of course there are these racial overtones that have to do with [theories that] the government trying to suppress these artists because of where they were potentially going with the black movement. When you know the facts of the story, that's all far fetched. But I think that's what keeps it appealing and mysterious."
Dorsey added, "I would say it's kind of like JFK and Elvis rolled into one."
Read more: http://www.cnn.com/2016/09/13/entertainment/tupac-shakur-death-anniversary/index.html