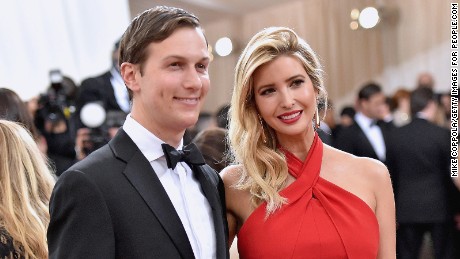 (CNN)
<
ul class="cn" cn-list-hierarchical-xs cn–idx-4 cn-zoneadcontainer">
Kushner's piece — titled "The Donald Trump I know" — comes after an arts and entertainment writer at the paper
published an open letter to Kushner
asking for him to publicly condemn the campaign's use of "blatant anti-Semitic imagery.
"
The article
, titled "An Open Letter to Jared Kushner, From One of Your Jewish Employees," was written by Dana Schwartz and posted on the Observer website Tuesday afternoon.
Kushner responded Wednesday, writing that "there are thoughtful points but journalists, even those who work for me at the Observer, are not always right."
"In my opinion, accusations like 'racist' and 'anti-Semite' are being thrown around with a carelessness that risks rendering these words meaningless," Kushner wrote.
"If even the slightest infraction against what the speech police have deemed correct speech is instantly shouted down with taunts of 'racist' then what is left to condemn the actual racists?" he wrote. "What do we call the people who won't hire minorities or beat others up for their religion?"
Kushner wrote of his grandmother's escape from the Holocaust, and how she met his grandfather — who'd lived in a hole he'd dug in the woods to hide from Nazis for three years.
"I go into these details, which I have never discussed, because it's important to me that people understand where I'm coming from when I report that I know the difference between actual, dangerous intolerance versus these labels that get tossed around in an effort to score political points," he wrote.
"The difference between me and the journalists and Twitter throngs who find it so convenient to dismiss my father in law is simple. I know him and they don't."
The 35-year-old publisher has been married to Trump's daughter, Ivanka, who converted to Judaism before their wedding, since 2009. As the presumptive Republican nominee's campaign has progressed, Kushner's influence within its often muddled hierarchy has grown. A recent New York Times profile
described him
in its headline as the candidate's "quiet fixer."
"The fact is that my father in law is an incredibly loving and tolerant person who has embraced my family and our Judaism since I began dating my wife. His support has been unwavering and from the heart. I have personally seen him embrace people of all racial and religious backgrounds, at his companies and in his personal life," Kushner wrote.
Schwartz sat down Wednesday with CNN's Alisyn Camerota to explain why she addressed the issue to Kushner, whose publishing company owns the Observer.
The letter was posted
Tuesday on the Observer's website.
The presumptive GOP presidential nominee set off a firestorm last weekend by tweeting a graphic of Hillary Clinton that featured a six-point star evoking the Star of David and a pile of cash with the words "most corrupt candidate ever."
"It was a personal issue," Schwartz, an entertainment writer, told CNN's "New Day." "I responded immediately because I saw it as an anti-Semitic issue."
Schwartz has never met Kushner but said she hoped her letter would compel him as a Trump adviser to take action. Kushner is Jewish and is married to Trump's daughter, Ivanka, who converted to Judaism.
"You went to Harvard, and hold two graduate degrees," Schwartz wrote in her letter. "Please do not condescend to me and pretend you don't understand the imagery of a six-sided star when juxtaposed with money and accusations of financial dishonesty."
Responding to criticism, Kushner had initially issued a statement calling his father-in-law "incredibly loving and a tolerant person," adding that he has personally seen Trump embrace people of diverse backgrounds.
But Schwartz said Kushner's response skirted the issue at hand.
"The issue isn't whether Donald Trump as an individual is anti-Semitic," Schwartz told Camerota. "The question is whether his supporters are and whether he's encouraging that, and the answer is absolutely and unequivocally yes."
After initially taking to Twitter to voice her concerns, Schwartz said she too faced a backlash, with many targeting her Judaism.
"I can't imagine he could see the type of tweets I'm getting and think that's the type of country we want to live in, and that's what his father-in-law brings out in people."
Neither Trump nor his campaign apologized for the tweet but deleted the original post and uploaded an edited graphic with a circle instead of the six-pointed star.
Commenting about the controversy on Twitter, Trump blamed what he called the "dishonest media" for misinterpreting the image.
"He's blaming people like me for reading too much into it," Schwartz said. "I feel so silly and really ashamed that we're in an election where asking a candidate to disavow white supremacists is something we have to say."
Read more: http://www.cnn.com/2016/07/06/politics/dana-schwartz-jared-kushner-trump-tweet-new-day/index.html