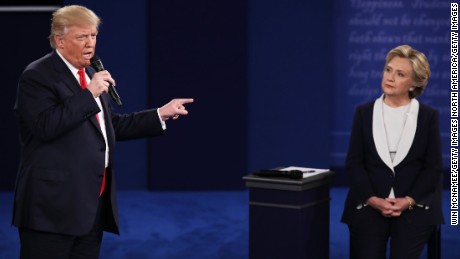 (CNN)Donald Trump has always known how to make an entrance. Whether striding out of a Mercedes in the opening credits of "The Apprentice" or pouring a bottle of champagne suggestively over a limo in a recently rediscovered Playboy video, he has made a career of keeping himself the center of attention.
So perhaps it was no surprise that he crashed the opening credits of
Sunday night's town hall debate
. Not for Donald Trump, the option of staying off-screen until a joint walk-on with Hillary Clinton. Instead, just half an hour before the formal debate was due to start,
Trump assembled a panel of women
— each of whom have accused Hillary Clinton's husband, Bill Clinton, of a range of sexual misdemeanors — and tried to start the debate without his opponent in the room. Think of it as Ashton Kutcher's "Punk'd," only with sexual assault, rape allegations and burgeoning despotism.
<
ul class="cn" cn-list-hierarchical-xs cn–idx-4 cn-zoneadcontainer">
Against most candidates, Trump's entertainment baggage would brand him a caricature, a figure more relevant to pop culture than politics. Yet in Clinton, he also has an extraordinary opponent. Not simply for her weaknesses — it is a long established truism that both candidates are
exceptional for their negatives among voters
— but because she too has towered over the public stage for nearly 30 years.
A race featuring one such divisive candidate might be considered colorful; to have two face off, to quote Oscar Wilde, looks like carelessness. Both were "Saturday Night Live" caricatures long before they were serious presidential candidates. Both were mentioned on "The Simpsons" before this year's youngest voters were born. (He in 1992; she in 1993). Both now are struggling, not against each other so much as against their own long cultural footprint.
It helps Trump, then, that he's been a TV star all along. Clinton rattled him, but his experience in "The Apprentice" boardroom showed, and may just have saved him to fight another day. (
CNN's poll
shows 57% of debate viewers crediting Clinton with victory, from a pool that leans Democrat, but 58% had intended to vote for her before the debate, and 63% stated that Trump exceeded expectation.) Trump scowled like an old school ham actor, but he responded well to the three-sided interrogation from his opponent, the moderators, and the audience. Even his darkest moment — the indefensible suggestion that Clinton would find herself in jail under his presidency — was an instantaneous retort slipped in under the radar. It was an outrageous threat, but not an unprecedented one amongst friends of Vladimir Putin. The former Ukrainian President, Viktor Yanukovych, unconstitutionally imprisoned his democratic predecessor Yulia Tymoshenko — who, like Clinton last night, might have had more sympathy were it not for her reputation for corruption. Unfortunately, Yanukovych managed to get elected with even less experience than Trump in making nice to cameras.
Town halls are notoriously difficult arenas. In the United Kingdom, the BBC's flagship "Question Time" pits politicians and journalists against questions from an often hostile audience: for those of us who have taken part on the panel, the most difficult aspect is keeping one's cool amid the immediate dogfight of the room. Speakers who avoid engaging with the angriest questioners may not win them over in the hall, but are often able to resonate beyond, into the households of viewers above the fray. (Never, ever get into a fight about local environmental issues.) Neither Trump nor Clinton passed this test: in Clinton's case, perhaps, because the local troublemaker was not only in the audience, but on the other side of the podium.
If there's something else Trump has learned from his long TV career, it's never to let yourself out of shot. In a shared space designed more like a fighting arena than a podium, he loomed over Clinton at every possible opportunity — the British populist MEP, Nigel Farage, later spun for him by describing him as "a silverback gorilla; he dominated her." In a week in which Trump's predatory approach to gender politics has been high in the headlines, this may not do him favors everywhere. Bush strategist Nicolle Wallace told MSNBC afterward, "If I was on the street, and someone that size was that close to me, I would quietly just hit 911."
Throughout his career, Trump has sought the spotlight at all costs; Clinton has shrunk from it, at least as far as scrutiny is concerned. Neither appears to have shrugged off those habits in Sunday's debate.
Note: An earlier version incorrectly described Nigel Farage, a member of the European Parliament, as an MP.
Read more: http://www.cnn.com/2016/10/10/opinions/trump-and-clinton-villains-kate-maltby/index.html