Casino once owned by now defunct Trump Entertainment Resorts will be shuttered after Labor Day weekend as union leader takes parting shot at Trump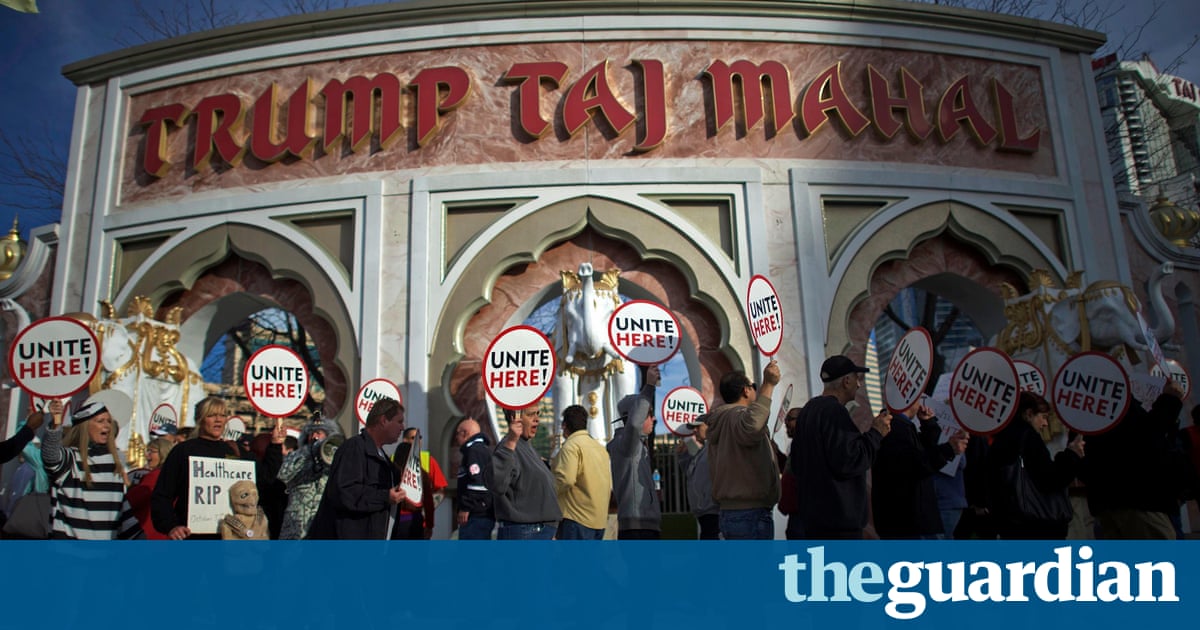 It was billed as the <a href="http://infoweb.newsbank.com/resources/doc/nb/news/0EAEA84FC02171B9?p=AWNB" data-link-name="in" body link" class="u-underline">eighth wonder of the world when it opened a quarter-century ago on the glitziest stretch of the Jersey shore, but after multiple bankruptcies and the longest union strike in Atlantic City casino history, the Trump Taj Mahal is about to go the way of the Colossus of Rhodes.
The casino, once the crown jewel of the now defunct Trump Entertainment Resorts company, will shutter after Labor Day weekend, according to a statement issued by Tropicana Entertainments CEO Tony Rodio, who put the failure of the casino at the feet of striking union members and the prior equity owners who put it into its recent bankruptcy that is, the Trump Organization.
Icahn Enterprises [which owns Tropicana Entertainment] saved the Tropicana [another Atlantic City casino owned by the company], and to date has lost almost $100m trying to save the Taj when no other party including the prior equity owners who put it into its recent bankruptcy were willing to invest even one dollar to save it, Rodio said, referring to Carl Icahn, the current owner of the Trump Taj Mahal, who purchased the final shares of the resort casino from Trump in February.
Currently the Taj is losing multi-millions a month, and now with this strike, we see no path to profitability, Rodio continued. Unfortunately, weve reached the point where we will have to close the Taj after Labor Day weekend.
More than 1,000 members of the Local 54 chapter of the Unite-Here union have been on strike since 1 July, demanding restoration of the health insurance and pension benefits that were stripped from the casinos employees by a bankruptcy court judge in 2014.
In a statement by the president of Local 54, Bob McDevitt, the union put the blame on mismanagement by Icahn and threw in a sideshot at Trump, who has floated Icahn as a potential treasury secretary if he wins the presidential election in November.
In the end, these workers stood up for what every other casino worker doing their job in this town has, and what every other casino worker here has had since gaming was introduced to Atlantic City over three decades ago, McDevitt said. If this is the guy Donald Trump wants to be treasury secretary of the United States, then this country is doomed.
Atlantic City, once seen as a potential rival to Las Vegas as a gaming capital of the country, struggled economically after the Great Recession, combined with the redevelopment of Las Vegas and the construction of casinos in nearby Philadelphia. Inaccurate reports of the citys partial destruction during Hurricane Sandy in 2012 dampened tourism further, and plans for further casino construction dwindled as a result.
Read more: https://www.theguardian.com/us-news/2016/aug/03/trump-taj-mahal-casino-closing-atlantic-city