Union members walked off the job after not reaching a contract that restores health insurance and pension plans which were canceled in 2014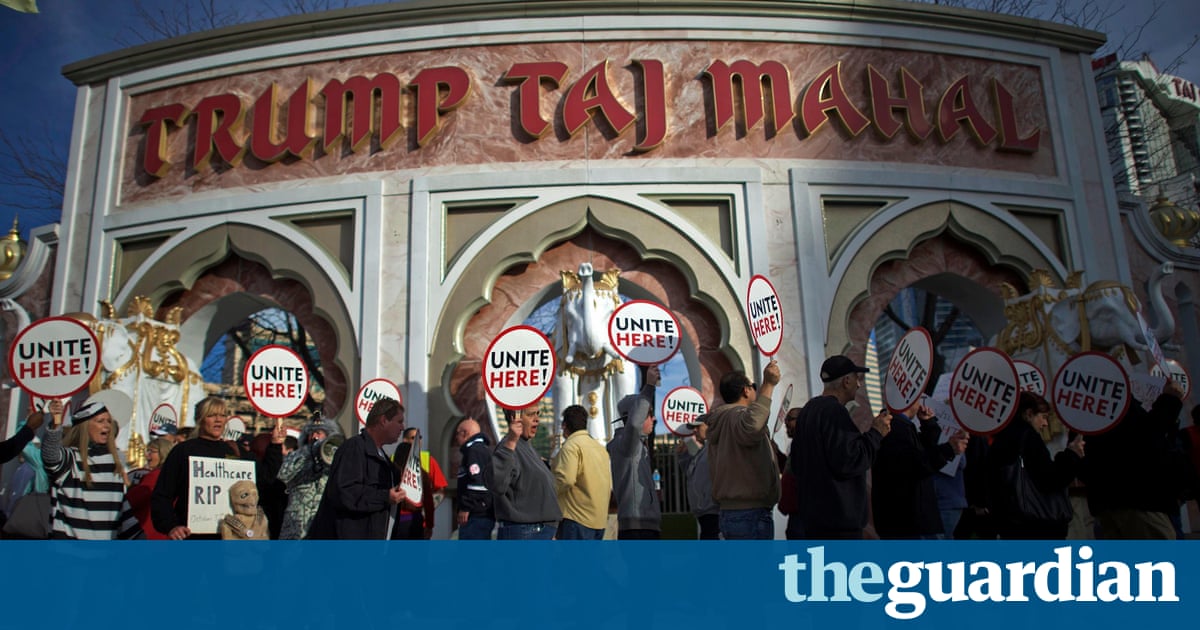 Just after midnight on a typical Sunday, John McLaughlin would be preparing for a shift bartending at a lounge at Atlantic Citys Trump Taj Mahal casino.
Instead, the lights were on at the closed club on the casino floor and the stage was empty except for a silent drum kit. McLaughlin was with a group of about 30 union members marching on the boardwalk outside, as a strike entered its third day.
Local 54 of the Unite-Here union <a href="https://www.theguardian.com/us-news/2016/jul/01/trump-taj-mahal-strike-contract-carl-icahn" data-link-name="in" body link" class="u-underline">walked off the job against the Taj Mahal on Friday, unable to reach a contract that restores its members health insurance and pension plans. The former owners of the casino got a bankruptcy judge to cancel those benefits in 2014.
I dont mind it because its for a good cause, said McLaughlin, who said he has worked as a bartender at the Taj since it was opened by Donald Trump in 1990.
When somebody steals health benefits from young families with kids for 22 months, I think thats horrendous and outrageous.
The casino now belongs to Trumps friend and fellow billionaire Carl Icahn.
Everyone is really motivated and really excited out here fighting Carl Icahn, union president Bob McDevitt said as he walked with the protesters early on Sunday. Theyre not counting the days right now. They just figure theyll be here as long as they have to.
Icahns management team has said the union seems hell-bent on trying to close this property and pointed out that he has spent $86m keeping the Taj Mahal alive through bankruptcy.
Guests continued to come and go during the Fourth of July weekend, traditionally the busiest of the year for Atlantic City casinos. Gamblers continued playing the slots and table games and some restaurants were open.
The casinos website wasnt accepting hotel reservations through next week and an employee stationed at the front check-in desk said no rooms were available through next week because of the striking workers.
Officials would not go into detail about their staffing arrangements during the strike. Those on strike include people who serve drinks, cook, transport luggage, clean rooms and more. Casino dealers and security are not part of the union striking. The union said no further contract talks were scheduled.
While the Trump Taj Mahal still bears his name, the presumptive Republican presidential nominee has not owned it for years. The bankruptcy filing and the benefit terminations happened five years after Trump relinquished control of the casino and its parent company, Trump Entertainment Resorts, to bondholders in a previous bankruptcy.
Aside from a 10% stake in the company for the use of his name that was wiped out in bankruptcy when Icahn took over in March, Trump has had no involvement with the company since 2009.
The last time Local 54 waged a strike, in 2004, the walkout lasted 34 days.
Read more: https://www.theguardian.com/us-news/2016/jul/03/trump-taj-mahal-casino-strike-enters-third-day