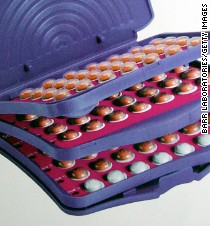 (CNN)Republican presidential nominee Donald Trump said today that he's not in favor of requiring a prescription to purchase birth control. In a taped interview on "The Dr. Oz Show," Trump said, "I would say it should not be a prescription; it should not be done by prescription."
Three West Coast states already allow pharmacies to sell hormonal contraception without a doctor's script. Though hormonal pills and patches have not been approved for over-the-counter sale by the Food and Drug Administration,
Oregon law
granted permission for pharmacists to prescribe and sell hormonal contraception to women beginning January 1 of this year. California followed suit as of April 8.
<
ul class="cn" cn-list-hierarchical-xs cn–idx-4 cn-zoneadcontainer">
Washington state passed a law in 1979 allowing pharmacists the authority to prescribe when working through a collaborative agreement with a doctor, said Jeff Rochon, CEO of the
Washington State Pharmacy Association
.
When this right to request that a pharmacist prescribe and dispense birth control went underutilized by women, the state put together additional legislation that became effective in March 31, explained Rochon. The new law simply increases awareness of the existing right, requiring pharmacists place a sticker in their window indicating that they can prescribe birth control to women without a doctor's visit.
Elsewhere, the movement toward allowing pharmacists to directly prescribe happened only recently.
<
div class="zn-body__read-all">
"This is pretty new. Interest in this didn't pick up until a few years ago," said
Elizabeth Nash
, a policy analyst at the Guttmacher Institute. As she explained, California began the process of amending its laws in 2013. Oregon introduced similar legislation just last year but then crossed the finish line first.
Currently, 12 states and the District of Columbia are considering similar bills, Nash said. In most cases, the idea is to allow pharmacists to prescribe not just birth control but also smoking-cessation drugs or other prescription products without the need for a doctor's script.
"It seems to be taking off on the West Coast," Nash said.
Support for these laws is not limited to sexual and reproductive health policy organizations like Guttmacher.
<
div class="el__embedded" el__embedded–standard">