Trump tweet likely revive controversy that followed Charlottesville, as anti-fascist protests dwarfed small group of rightwingers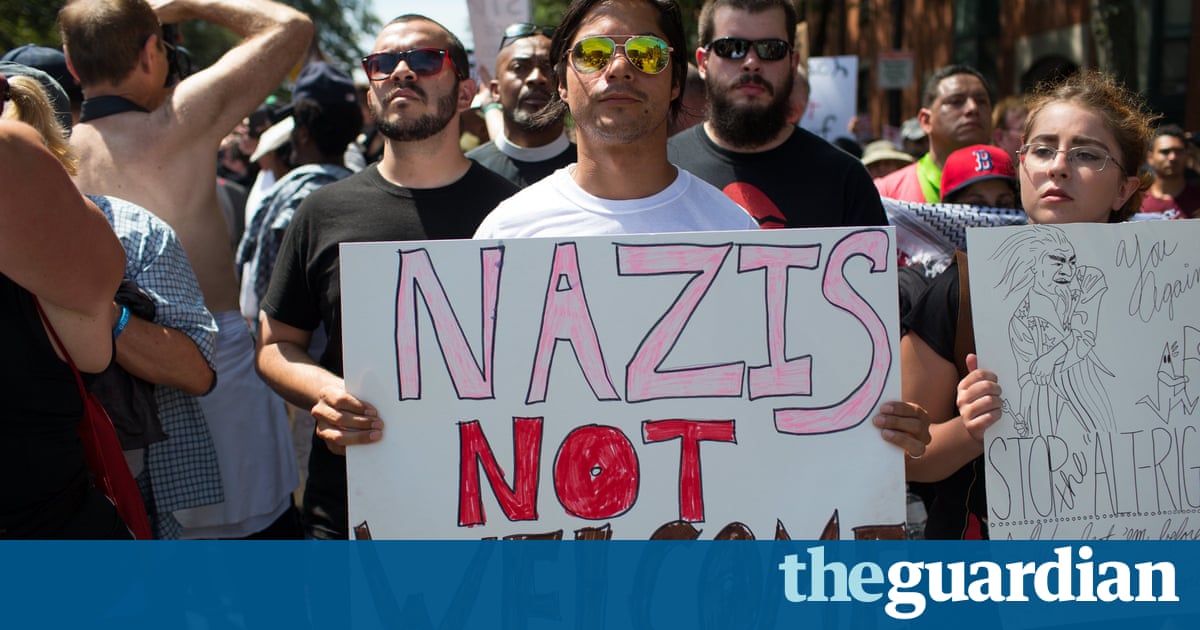 Donald Trump described anti-fascist and anti-racist demonstrators who converged on Boston as anti-police agitators on Saturday, in a tweet that seemed destined to revive the still simmering controversy over his remarks equating the far right and anti-Nazis in Charlottesville last weekend.
Looks like many anti-police agitators in Boston, Trump tweeted. Police are looking tough and smart! Thank you.
But he later seemed to back the right to demonstrate, posting: Our great country has been divided for decades. Sometimes you need protest in order to heal, & we will heal, & be stronger than ever before!
He added: I want to applaud the many protestors in Boston who are speaking out against bigotry and hate. Our country will soon come together as one!
An estimated 40,000 leftwing counter-protesters including various Black Lives Matter groups and activist group Violence in Boston marched through the city to historic Boston Common, dwarfing a small group of conservatives holding a free speech rally.
Many gathered near a bandstand abandoned by conservatives who delivered a series of speeches.
Boston Free Speech, a conservative activist group that organized the midday event, had publicly distanced themselves from the neo-Nazis, white supremacists and others who fomented violence in Charlottesville on 12 August.
Nevertheless, some far right activists had at one point been invited to speak at the rally, before later dropping out over fears for their own safety. Asked about this, a spokesperson for Boston Free Speech would not comment, but claimed to have also invited representatives from Black Lives Matter to speak too.
Activist Vida James, 34, said of the presidents initial tweet: Donald Trump spewed hate speech in his campaign, emboldened white supremacists, and here in Boston we have police protecting white supremacists.
She added: The government and the police are actors of institutional racism, as we see with police brutality and Trumps defense of the same brutality. So the tweet doesnt surprise me.
Another counter-protester, who gave his name only as Paul, told the Guardian: Well, he is not wrong. Our generation has been radicalized by police murdering people of color. And cops shut down a massive section of Boston and protected about 25 rightwingers while 45,000 people joined counter-protests.
I think for a lot of people its clear what side the police are on. It wasnt on the side of the people protesting white nationalists even though Marty Walsh [the mayor of Boston] talked tough earlier in the week.
He also claimed to have been maced. Im fine now. It was during a scrum with a Trump supporter. Someone tried to spray the Trump guy and missed and got me, he said.
The violence in Charlottesville last weekend led to Trump igniting the most serious controversy over racism since his election campaign, with Republicans, business leaders, charities, sports stars and artists all denouncing him after he suggested that neo-Nazis there were morally equivalent to the anti-fascist activists opposing them. A woman was killed at that Unite the Right rally, and scores of others were injured, when a car plowed into counter-demonstrators.
Opponents feared that white nationalists might show up in Boston, raising the specter of ugly confrontations in the first potentially large and racially charged gathering in a major US city since Charlottesville. But only a few hundred conservatives turned out for the rally on Boston Common, in stark contrast to the estimated 40,000 counter-protesters and the conservatives abruptly left early.

One of the planned speakers of the conservative activist rally said the event fell apart.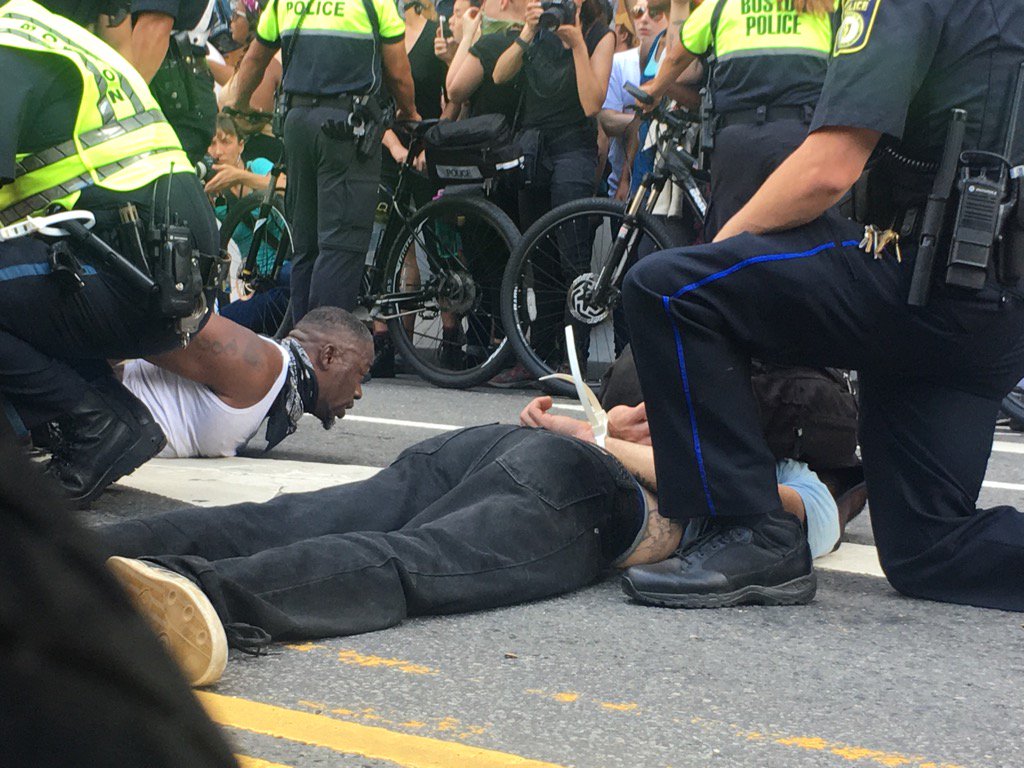 Police closed the event to anti-fascist activists and the media, telling the Guardian: No one is allowed in. This is a private event. Its permitted. No cameras. Stay back. No media. There is no media allowed in. The Boston Common is a public space.
Twenty-seven people were arrested, according to Boston police, including one man with a gun, who police said was on the conservative side. A witness said the man had had a concealed weapon and had been wearing a Trump hat.
The Guardian witnessed at least seven arrests, with people placed in zip ties after police cleared Boylston Street. Others threw bottles from scaffolding on Emerson Colleges dorm building as the crowd pressed against police and Swat teams armed with batons and mace protected the police vehicle containing the alt-right speakers. There had been cries of shame and make them walk as police led the speakers to the vehicle.
Police commissioner William Evans said of the counter-protesters: We had some kids block the street, and they got a little confrontational.
He added: They were given every option to leave, but the officers, they were getting bottles, they were getting pushed and I think they did a good job handling it. The Police Department claimed that bottles of urine and empty bottles were thrown at them from scaffolding at Emerson.
Asked about Trumps tweet, Evans said: Im not going to comment on politics.
Counter-protester Arielle Gray, 26, who lives in the Boston neighborhood of Mattapan, burned sage and held a sign that read: Make America Melanated Again.
She said: I got here as the police were leading the last of the white supremacists out. I saw two [counter-protesters] arrested.
She said that although instances of racism were nothing new to people of color, racists have become bold.
When asked about violence from both sets of protesters, Gray, who is African American, told the Guardian: Im torn on violence. Violence is never truly necessary, but with my peoples history Weve had violence enacted against our bodies. There is a point that comes when people are told their voices dont matter.
Boston Free Speech released a statement to the Guardian saying they would not offer a platform to racism or bigotry. We denounce the politics of supremacy and violence, the statement said. We denounce the actions, activities, and tactics of the so-called Antifa movement. We denounce the normalization of political violence.
Some counter-protesters dressed entirely in black and wore bandanas over their faces. They chanted anti-Nazi and anti-fascism slogans, and waved signs that said: Make Nazis Afraid Again, Love your neighbor, Resist fascism and Hate never made US great. Others carried a large banner that read: SMASH WHITE SUPREMACY.
I came out today to show support for the black community and for all minority communities, said Rockeem Robinson, 21, a youth counselor from Cambridge. He said he wasnt concerned about his personal safety because he felt there was more support on his side.
Katie Griffiths, 48, a social worker also from Cambridge, who works with members of poor and minority communities, said she found the hate and violence happening very scary.
I see poor people and people of color being scapegoated, she said. Unlearned lessons can be repeated.
TV cameras showed a group of boisterous counter-protesters on the Common chasing a man with a Trump campaign banner and cap, shouting and swearing at him. But other counter-protesters intervened and helped the man safely over a fence into the area where the conservative rally was to be staged. Black-clad counter-protesters also grabbed an American flag out of an elderly womans hands, and she stumbled and fell to the ground.
Yet Saturdays showdown was mostly peaceable, and after demonstrators dispersed, a picnic atmosphere took over with stragglers tossing beach balls, banging on bongo drums and playing reggae music.
Dating to 1634, Boston Common is the nations oldest city park. The leafy downtown park is popular with locals and tourists and has been the scene of numerous rallies and protests for centuries.
Rallies also were planned in cities across the country, including Dallas, Atlanta and New Orleans.
Hundreds of people gathered at City Hall in Austin, Texas, on Saturday morning, holding signs in support of racial equality. The Austin American-Statesmen reported organizers for the Rally Against White Supremacy estimated about 1,200 people were in attendance.
The Associated Press contributed to this report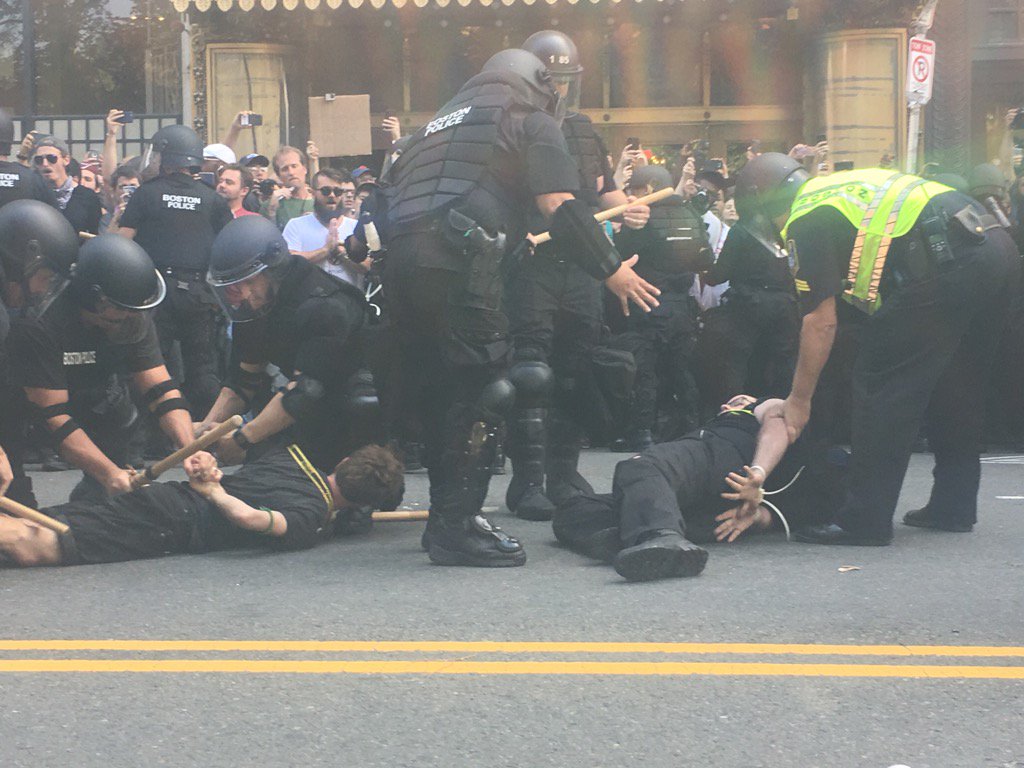 Read more: https://www.theguardian.com/us-news/2017/aug/19/boston-protest-free-speech-rally