<figure class="media-landscape" has-caption full-width lead">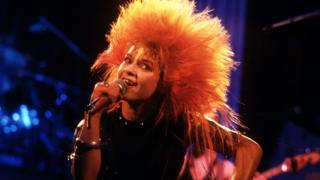 Image copyright Getty Images

Image caption Toyah Willcox is known for her chart hits and acting roles
After playing a member of the anarchic and murderous girl gang in the 1978 punk film Jubilee, actress and singer Toyah Willcox is revisiting the story in its first stage version. Is she still punk, 40 years on?
"I can't live in a world of dullards," Toyah says. "So I think on that level, I'm definitely punk."
Toyah, who forged an acting career while also making her name as a pop star, is still rebelling against the expectations of society – in her own way.
"For me, it's non-conformist," she says. "I'm just not interested in the norm. The only example I can give you is I can't go to a hairdresser and talk about holidays. I just don't live in that world. It's not me."
Being punk means something different in 2017 compared with 1977. But the world's a different place now, and Toyah is almost 60.
<
div id="bbccom_mpu_1_2_3″ class="bbccom_slot" mpu-ad" aria-hidden="true">